Zooey Deschanel Takes LA Times' Patt Morrison To Task Over Article Calling Her A 'Snobby Cow'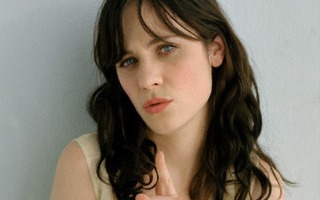 Actress and singer Zooey Deschanel recently published an open letter to the Los Angeles' Patt Morrison on her personal Tumblr (It features old-timey illustrations of sea monsters!) and on her new ladysite HelloGiggles (It features a cartoon version of Zooey!), chastising the columnist for an article that described Deschanel as having sounded like "a snobby cow" at the recent BAFTA dinner (attended by Prince William and Duchess Kate and their outfits), based solely on a partial quote taken from an earlier USA Today article.
Morrison had taken Deschanel to task over the implication that Downtown Los Angeles is festering sty and national embarrassment not to be seen by royal British eyes. The thing is, Deschanel never said such a thing. Morrison — who had not attended the event — merely inferred this from the incomplete USA Today quote.
Here is an excerpt of Deschanel's rather appropriate response:
I feel compelled to respond to your recent blog post, regarding comments I "allegedly" made outside the BAFTA dinner on Saturday night. I never spoke to you at this event; in fact, you weren't even there. I am completely and utterly shocked that a professional journalist, whom I have never met, would take a partial quote out of context, and use it as the basis for a misguided personal attack. Further, I find it appalling that you would resort to name-calling to get your point across. In a court of law this would be called hearsay, and in journalism, I believe this should be the beginning of an investigation, not the end of one.

Let me be clear, the quote from USA TODAY that you used as the foundation of your piece, was taken completely out of context. I NEVER said Downtown LA was "the worst of LA." I did make a reference to a parking lot adjacent to the theater that had a lot of trash in it in an attempt to be humorous. I simply said, "it's funny they brought royalty here, there is a parking lot with trash around the corner." It wasn't an opinion. It was true. There WAS indeed a parking lot with trash around the corner. I thought the juxtaposition of British Royalty and trash was amusing in a high-brow + low brow sort of way, but I never said that I, personally, didn't like downtown, the Royals, or even trash.
Dismissing the reality that Downtown LA is the worst of everything, Deschanel is otherwise entirely correct. Morrison has since issued something like an apology, noting that Deschanel is "a talented and charming actress" who "really does love downtown Los Angeles." In her original article, Morrison also insinuated that Deschanel is both 1) a resident of the city's Westside and 2) someone who doesn't care about homeless people ("What, Ms. Deschanel, you don't have any homeless people there near your Westside home? Or does that not count, because they're on the beach, not the sidewalks?"). Turns out at least the Westside thing is probably untrue:
I also wrote that Deschanel lives on the Westside — not so, say her people. But it's not like it wasn't checked: Voter registration records show that as of last November's election, she was registered to vote at an address in Pacific Palisades.

I hope Deschanel will head back to greater downtown L.A. one of these days. The vegetarian breakfasts at the Homegirl Cafe? I can't recommend them enough.
Can't we all just share a tofu scramble and learn to really listen to one another?
h/t Videogum
Have a tip we should know? tips@mediaite.com