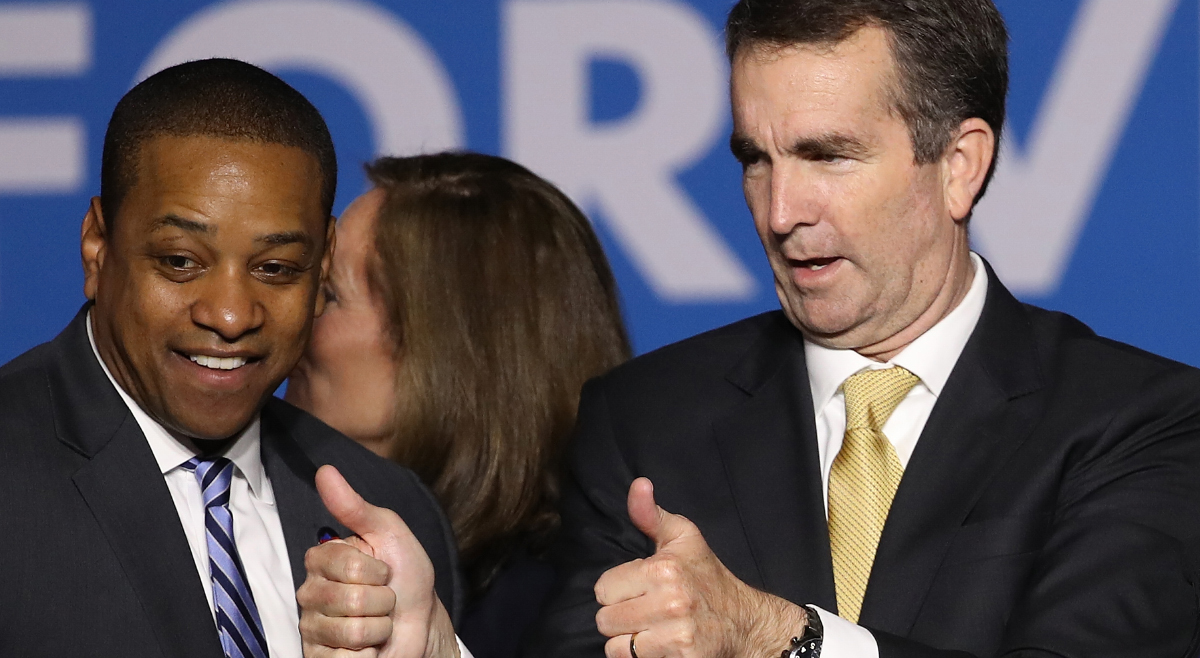 Two weeks ago, on a Wednesday, Virginia Gov. Ralph Northam (D) had a great photo-op as he ceremonially signed legislation on foster care. Behind him stood a bipartisan group of state of officials and legislators. Beside him at the table sat Carlos Johnson, a young man who aged out of foster care in the state and has been a face for the campaign to improve the system and increase the number of foster families in Virginia.
It was a nice moment, and a good photo-op. And there was neither hint of rain nor shadow of clouds over the governor, who just two months ago almost moonwalked while holding a press conference to admit he wore blackface.
That's right. That was only two months ago. February.
Also in February, Attorney General Mark Herring (D) likewise had a blackface scandal. Also in February, Lt. Gov. Justin Fairfax (D) was accused of sexual assault.
You may remember these scandals. They took place in February, less than two months ago. Don't know if we mentioned that.
Since that time, there have been no resignations, no repercussions. No one has stepped down, stepped aside, been forced out, been stripped of anything, or …. anything politically or in the press.
Fairfax still stands accused of assault by two women. For lesser accusations a current Supreme Court justice almost wasn't, a comedian-turned-Senator turned private citizen again. For everyone facing accusations of assault or sexual misconduct, in both parties and in Hollywood, there have been consequences, except in the cases of Keith Ellison and now Justin Fairfax. Among the Democrats embroiled, his situation is the most serious, and unlike the others, he has faced some private-sector problems over the situation: He was placed on leave by his law firm.
Blackface, too, has proved a fatal problem of late. Megyn Kelly theoretically lost her job over simply excusing it. Stories of frat boys and penny ante Republic officials potentially involved in racial photographs have tanked careers. National scandals have erupted over Confederate flags in photos, much less the Klan and Slave milieu favored by Northam. Yet there he sat 12 days ago, beaming amid a multi-cultural crowd of foster families and a multi-partisan entourage of grins and thumbs-up.
Repercussions? Constant media revisiting of the accusations when their names come up in other stories? No on both counts.
So what happened?
As a conservative, the pat and easy answer would be that Democrats don't suffer the same consequences as Republicans when it comes to race scandals or sex scandals. But this was big news, and even Democrats knew it was a disaster. There were public condemnations. There were Sunday morning talk show segments. Even late night comedians took time off from Trump-watch to mock Virginia's Democratic party. So where did the press, and the party, and the voters go?
Another quick answer might be that, once Democrats managed to tangentially tack a Republican onto the scandal they felt their work was done, and everyone moved on. But that, too, is not a sufficient answer. Even if it were the correct answer, it would be a wholly inadequate excuse, but in this case it's just not enough to explain how the moonwalking governor just gets a reset button.
The web of reasons this Democrat scandal sneaked off TV screens and agendas includes, in no small part, the gigantic news suck that is Donald Trump. Anyone who watches CNN knows that Trump is not just the bread and butter of their daily air time, he's gravy, the vegetables, the steak, the appetizer, the dessert, and the coffee in the living room after. In media in 2019, Trump IS the news. He constitutes it.
Even as the scandals unfolded, talking heads on MSNBC and CNN managed to rope Trump in, either as a tone-setter or a free pass with "whatabout" stamped on it, or even as some sort of cultural catalyst for a suddenly more alert and woke press.
The social media based chattering classes even suggest that Trump has set the standard for not apologizing and simply moving on, and Democrats are just borrowing his page. It's suitably temporo-myopic theory for the millennial class, who are pretty sure history started when Gore lost the election and the years started with 2 instead of 1.
And look, yes, hose things are of course part of it. Contributory, you might say. But the real answer — that is, the primary reason for the scandal flood subsiding — is, as is so often the case, the most obvious one. As plain as the nose on Occam's face.
Democrats don't want to lose power.
The don't want a Republican in charge. Or Republicans. Polling in Virginia show Democrat voters feel the same as the party leadership; They'd rather not have any resignations or punishment because it could lead to losing power to Republicans.
From the days of Chappaquiddick and on through Ilhan Omar's "get out of anti-Semitism free" card, if there are two things certain in this world, they are neither death nor taxes but rather that Democrats will overlook anything to retain power, and the press will overlook anything to aid Democrats looking to retain power.
The third certain thing is that Democrats will say "Republicans overlook [every Trump thing] to retain power" but that truth is not an excuse, it's a deflection. Using Trump to avoid self-reflection is, of course, the fourth certain thing in the world.
There was briefly this month a moment when it seemed Virginia Democrats, facing a state election year and national election in 2020, could be persuaded to set aside moonwalk things and embrace a younger, more diverse leadership. Or at least, that was the idea floated by a big dollar donor. But in just the eight days since, it really is clear that Northam and company have retained not just the literal but the moral authority of leadership for their party and state.
Then again, that brief donor moment was on April 1st. Maybe that should have been a clue about how seriously Democrats were taking things. Or, foolishly, how much they're not.
[Featured photo by Win McNamee/Getty Images]
This is an opinion piece. The views expressed in this article are those of just the author.