Trump's Claim About a Recent Golf Round Might Be the Most Patently Absurd of His Presidency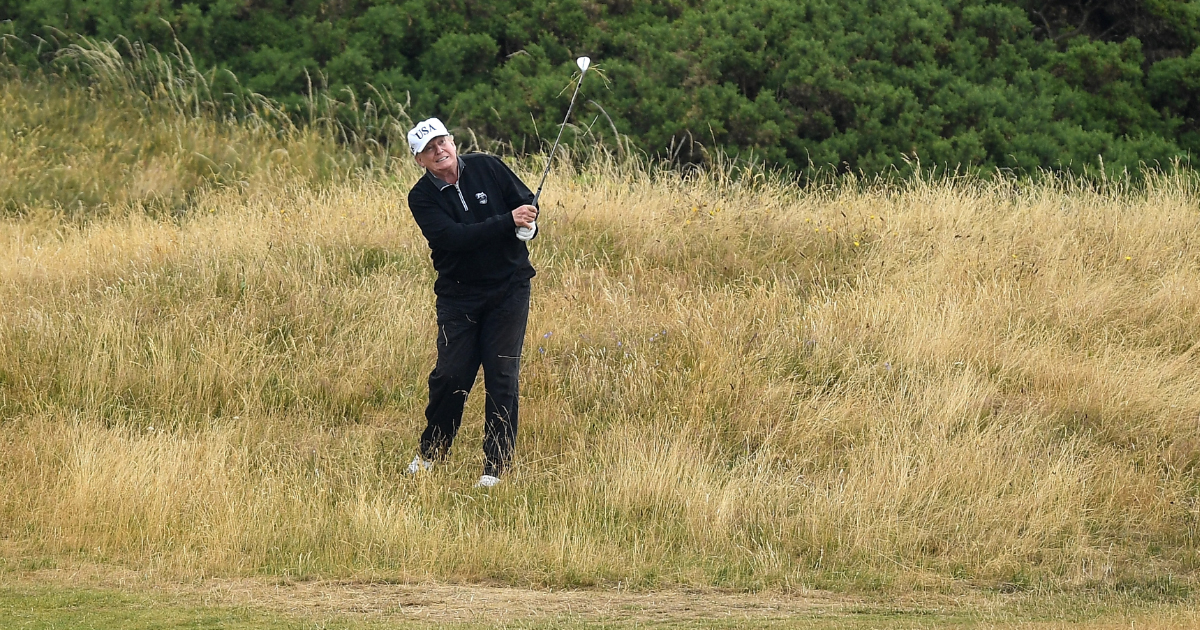 In the 828 days of Donald Trump's presidency, the Washington Post's fact checker has concluded that the commander-in-chief has made 10,111 false or misleading claims. The assertion Trump is making about a recent golf round seems destined to land on that list, and just might end up being the biggest whopper of his entire presidency.
Golfers who are registered with the United States Golf Association post their scores to the organization's website in order to calculate their handicap — the number of strokes in which they are expected to play relative to par. The president's handicap, according to the USGA, stands at 1.8 — an exceptional figure for a golfer of any age, and particularly more so for one who is 72.
Trump, by all accounts, is a player of some skill. Even Rick Reilly — the author of a recent book exposing the president's habitual cheating — writes that Trump is a "good" player. Still, most observers believe that the low handicap is not accurate.
And on Friday morning, sports writer Leif Skodnick flagged the latest score Trump posted to the USGA website. To say that it strains credulity is an understatement of the highest order.
BREAKING: President Trump has posted an 18-hole golf score to @USGA Golf Handicap Information Network for first time this season – a 68(!) on a course with a 75.3 rating/139 slope. pic.twitter.com/yiHKdhIWU9

— Leif Skodnick (@LeifSkodnick) May 17, 2019
Yes, on April 19, President Trump is claiming to have shot a 68 — an impressive score on any full golf course. Particularly impressive Trump International Golf Club West Palm Beach — the layout on which ABC's Karen Travers reports that Trump played that day.
President Trump golfed with Rush Limbaugh and a couple of friends at Trump International in West Palm Beach on April 19 – the day he says he posted a score of 68. https://t.co/FWdXU6bTxE

— Karen Travers (@karentravers) May 17, 2019
Trump International West Palm Beach is a Par 72 course, named one of the 200 greatest in America by Golf Digest. The magazine's panelists who judged the course called it "difficult" and "challenging." It is clear that this place is not for beginners.
And yet Donald Trump is claiming to have shot a 4-under-par 68. A truly sensational score… if it happened.
But did it? Or is this false claim No. 10,112? Let's explore.
In 2008, the LPGA tour held a tournament at the course — a marquee event called the ADT Championship. At the time, it was the richest event in the history of women's golf, with a $1 million prize awarded to the winner. As a result, the event drew a field of the highest quality, with golf legend Annika Sorenstam — arguably the greatest female player of all-time — among those competing.
Sorenstam, that week (according to the Golf Channel), shot rounds of 74 and 75. She missed the cut with a score of 5-over-par.
The tournament was won by Jiyai Shin — an 11-time champion on the LPGA tour. Shin, that week, shot rounds of 69, 75, 71, and 70 for a total of 3-under-par.
So by posting a score of 4-under 68 to the USGA database, Trump is claiming that he shot a better score than the winner of a tournament packed with the best female golfers in the world. Shin had four tries to equal or better Trump's mark, and could not do it in any of her rounds.
Tiger Woods played this course with Trump in 2016, after he became president-elect. And even he — at worst, the second-greatest golfer who ever lived — would have had to play a strong round to top Trump's 68.
Now, Golf.com reports that, by Trump's own accounting, it was the greatest round of his life. The president had never before posted a round of less than 70 — not just on the Palm Beach track, but on any course.
Let's also note that the course was almost certainly setup to be more challenging when the LPGA Tour visited in 2008. The rough was likely longer. The tees may have been moved back. The hole locations may have been less accessible. These types of fixes are common when a pro tournament comes to a golf course.
Still, the chances that Donald Trump actually shot a round of 68 on this difficult layout are roughly equal to the chances of oft-criticized pundit Chris Cillizza getting something right.
[Photo by Leon Neal/Getty Images]
This is an opinion piece. The views expressed in this article are those of just the author.
Joe DePaolo - Senior Editor