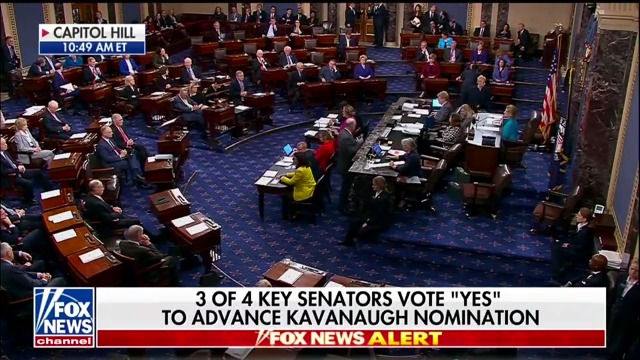 The Senate voted on Friday to advance Judge Brett Kavanaugh's nomination to the Supreme Court. A final vote is expected to be held this weekend, following debate from lawmakers on Capitol Hill throughout Friday.
Senators passed the motion 51-49. Known as a procedural cloture motion, it will now allow for up to 30 hours of debate before the final vote.
Several key Republican swing votes — Sens. Susan Collins and Jeff Flake — voted yes on the cloture motion, though they have yet to announce whether they intend to confirm Kavanaugh in the final vote. Democratic Senator Joe Manchin also voted yes.
Sen. Lisa Murkowski, a key Republican, voted no.
The Senate Judiciary Committee voted to move Kavanaugh's confirmation to the full Senate last week, though Flake requested a week suspension on the vote to allow for an FBI investigation into the sexual assault allegations against Kavanaugh.
Senators reviewed the FBI report this week, with Republicans stating it found no evidence of misconduct and Democrats slamming the investigation as an incomplete "sham."
This story is developing…
[image via Getty]
Have a tip we should know? [email protected]
Aidan McLaughlin - Editor in Chief