Trump RAGES Over Indictment And Issues Call To Fans: 'HOW MUCH MORE ARE AMERICAN PATRIOTS EXPECTED TO TAKE???'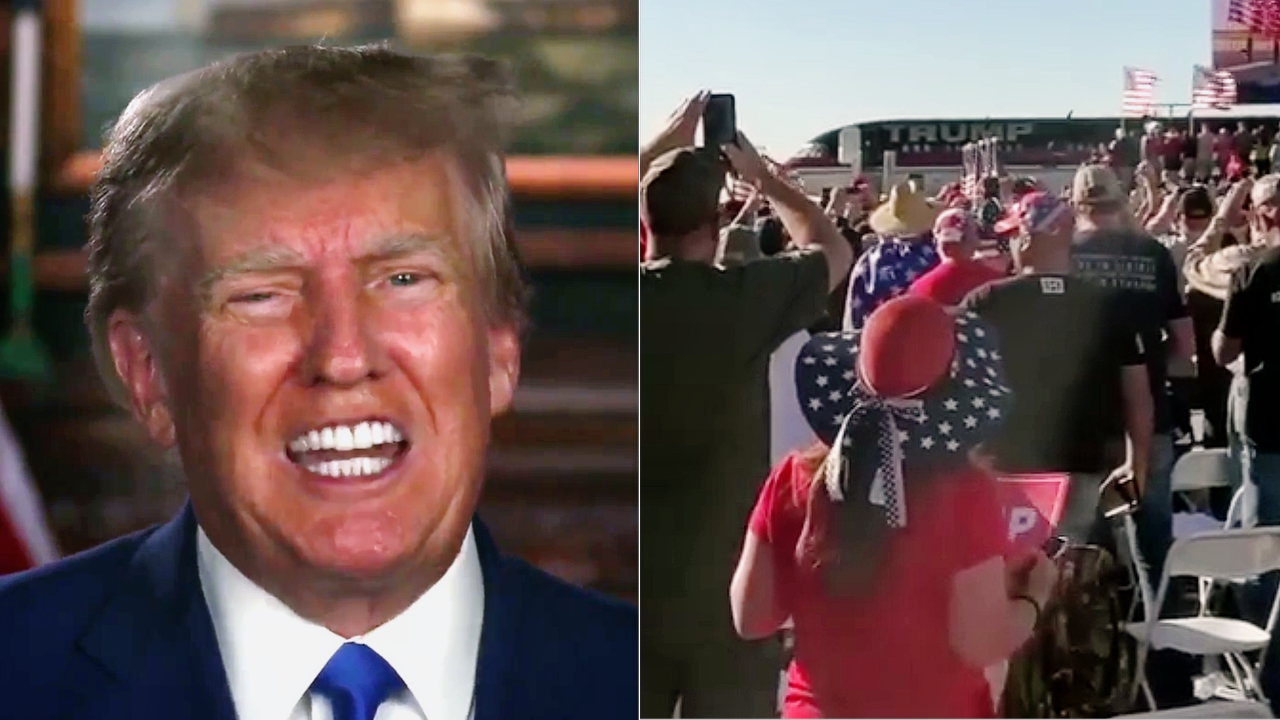 Former President Donald Trump resumed whipping up his fans with a rant against his indictment that concluded with the loaded exclamation "HOW MUCH MORE ARE AMERICAN PATRIOTS EXPECTED TO TAKE???"
Trump's campaign of threats went into overdrive when news broke on Thursday afternoon that Trump has been indicted by Manhattan District Attorney Alvin Bragg's grand jury investigating the circumstances around hush money payments to Stormy Daniels.
After ratcheting down slightly in the leadup to the indictment, Trump posted a message Friday night that
THE RADICAL LEFT DEMOCRATS HAVE LIED, CHEATED, AND STOLEN IN THEIR MANIACAL OBSESSION TO "GET TRUMP," BUT NOW THEY'VE GONE TOO FAR, INDICTING A TOTALLY INNOCENT MAN IN AN ACT OF OBSTRUCTION AND BLATANT ELECTION INTERFERENCE. HOW MUCH MORE ARE AMERICAN PATRIOTS EXPECTED TO TAKE???…AND ALL OF THIS WHILE OUR COUNTRY IS GOING TO HELL!
That rant was preceded by an all-caps attack on Bragg and his wife:
NEW CRIME STATISTICS ARE OUT IN MANHATTAN, THE PLACE REIGNED OVER BY RADICAL LEFT, SOROS BACKED, DISTRICT ATTORNEY—ALVIN BRAGG. THE NUMBERS ARE A COMPLETE AND TOTAL DISASTER….BUT, AT LEAST HE CAN TELL HIS TRUMP HATING WIFE AND FRIENDS THAT HE IS GOING AFTER THE VERY SUCCESSFUL 45TH PRESIDENT OF THE UNITED STATES. MAGA!
According to reports, Trump has been criminally indicted on a whopping 34 counts, and CNN also reports that "the Secret Service is preparing to bring the former president to his court appearance on Tuesday in Manhattan," where he will be booked, fingerprinted, photographed, and arraigned.
Security is obviously a big concern. Shortly after the indictment Thursday, orders went out from the NYPD for every cop in the city "of every rank" to "show up in uniform tomorrow" in anticipation of potential unrest that has not happened as of yet. The U.S. Secret Service will coordinate Trump's surrender and processing in Manhattan Tuesday.
Have a tip we should know? tips@mediaite.com