Trump Mocks DeSantis for 'Desperately Trying to Rescue His Failing Campaign' With 'Ratings Challenged' Piers Morgan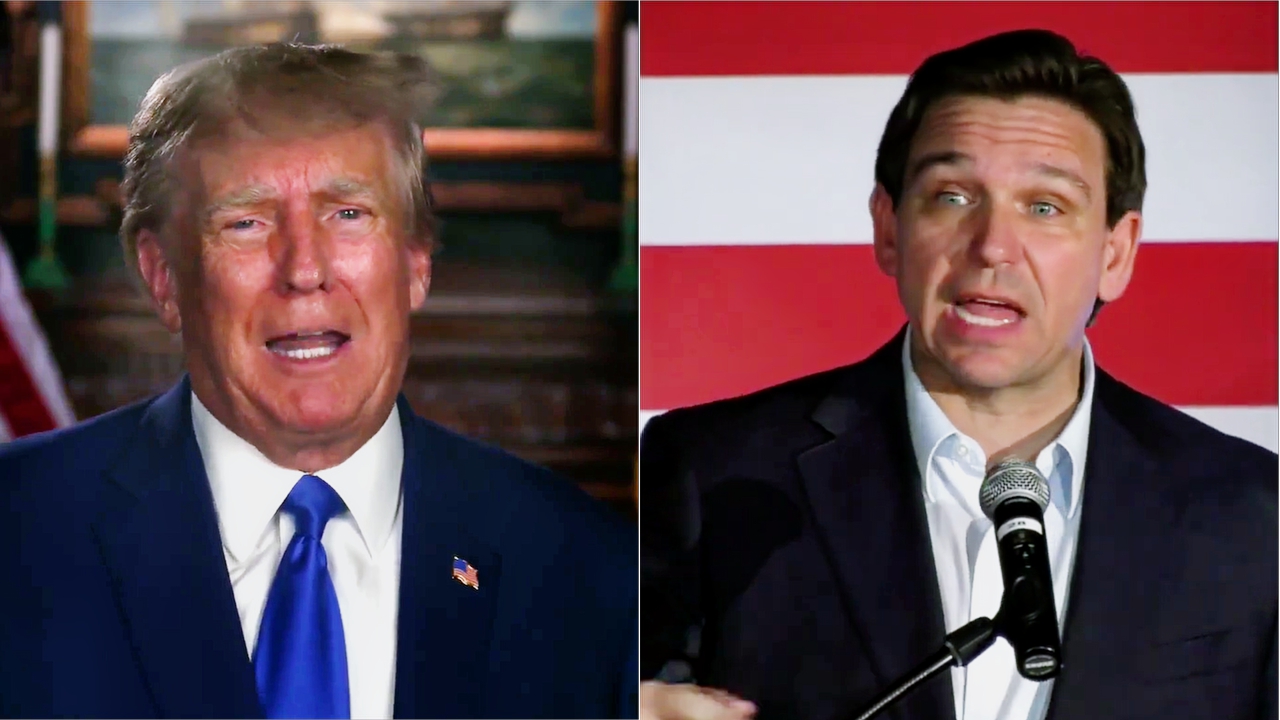 Former President Donald Trump took aim, yet again, at Florida Gov. Ron DeSantis (R) on Wednesday, responding to DeSantis's Tuesday sit down with Piers Morgan.
Trump wrote on his Truth Social platform, "While I am fighting against Radical Left Lunatics, Persecutors, and unfair Prosecutors who want to destroy us all, Ron DeSanctimonious is not working for the people of Florida as he should be, he is too busy chatting with a Ratings Challenged TV Host from England, desperately trying to rescue his failing Campaign—But it's my fault, I put him there!"
Trump appeared to be angered by DeSantis taking some direct and many indirect shots at Trump, particularly on the topic of character.
"At the end of the day as a leader, you really want to look to people like our Founding Fathers," DeSantis replied to Morgan asking about a leader's personal behavior. The interview was conducted in the context of Trump facing a possible indictment stemming from a hush money payment to a porn star with whom he allegedly had an affair.
"[I]t's not saying that you don't ever make a mistake in your personal life, but I think, what type of character are you bringing?" DeSantis added. The Florida Republican also weighed in on Trump's nicknames for him during the Fox Nation interview, which will air on Thursday.
"I don't know how to spell the sanctimonious one. I don't really know what it means, but I kinda like it, it's long, it's got a lot of vowels," DeSantis jested, referencing Trump's "Ron DeSanctimonious" nickname for him.
"I mean you can call me whatever you want, just as long as you also call me a winner because that's what we've been able to do in Florida, is put a lot of points on the board and really take this state to the next level," DeSantis concluded, in an apparent jab at Trump losing reelection.
Trump's statement also marked another attack on his one-time close friend and media ally, Morgan. The two had a long relationship going as far back as Trump's reality TV show The Apprentice and lasting through most of his presidency.
As the Independent noted, however, "Morgan, who had once been Trump's loudest booster on social media and defended their friendship, criticised his inaction as the coronavirus pandemic surged, and the president appeared hapless and in denial."
Morgan put the final nail in the coffin of his friendship with Trump back in April of 2022 by strongly pushing Trump on his widely debunked allegations of voter fraud in 2020.
Morgan used the interview to promote his new show, which has indeed struggled in the ratings, and released a clip on social media that appeared to show Trump storming off the set.
Have a tip we should know? tips@mediaite.com
Alex Griffing - Senior Editor