GQ Passed On Michael Hasting's Gen. McChrystal Article Before Rolling Stone Picked It Up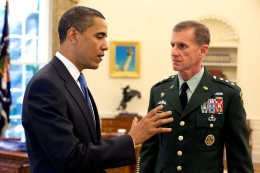 Now that the media is "all Shirley Sherrod, all the time" (with a dash of Journolist thrown in as well), see if you can work your memory hard enough to picture the golden days of late June 2010, back when it was "all Gen. McCrystal all the time." Yes, it was just about a month ago that Rolling Stone got their biggest publicity in years. Zeke Turner over at The New York Observer's Media Mob (and a Mediaite alum, whoo!) got the crazy story today that the article that brought down a five star general was originally supposed to go to GQ.
Turner reports that Michael Hastings, the writer of the Rolling Stone piece, had originally pitched the story to GQ where he is a contributor. GQ turned him down as they already had a reporter trying to do a McCrystal story and, at the time, Hastings did not yet have the incredible access to the general that made the article possible. In the end, GQ ended up with a story about Victoria's Secret model Miranda Kerr instead. As for what happened to Rolling Stone, well…
From Media Mob:
"The story was a huge success for Rolling Stone online, bringing 2.2 million unique visitors in the first two days. On average, Rolling Stone attracts 1.6 million uniques montly. A spokeswoman for Rolling Stone said that newsstand circulation for the June 22 issue is not yet available becuase the issue is still on newsstands. The story has attracted 8 million page views to date

'Yeah, it still hurts,' Mr. Nelson wrote in an email. 'But we're really happy for Mike,' he added. 'Not so happy for McCrystal.'"
Of course, not everyone in the media was happy with Rolling Stone for running the story that eventually ruined McCrystal's career. Those people would probably say that GQ made the right decision by not going with the piece. I, for one, agree with them. Not because of the reasons they give but because…well…have you seen Miranda Kerr?
Have a tip we should know? tips@mediaite.com