Murdoch's NY Post Goes After 'Deranged Trump' With Bonkers Front Page Torching Trump Over Death Threat
Rupert Murdoch's New York Post went after former President Donald Trump over his threats, and connected them to a death threat against Manhattan District Attorney Alvin Bragg.
Trump has been whipping up a frenzy over Bragg's investigation around hush money payments to Stormy Daniels and reports Trump's indictment and arrest could be imminent.
After several escalations, Trump upped the ante yet again in a late-night social media post by warning of "death & destruction" if he's charged. And on Friday, Trump deleted a post that featured juxtaposed images of Bragg and Trump wielding a baseball bat shortly after Bragg received a threat on his life in the mail.
On Saturday, the Post rolled out a cover that connected Trump to the death threat. Featuring the bat photo, the cover headline blared "BAT HIT CRAZY" with the subhed "Deranged Trump Threatens Violence Against Bragg, Who Gets Death Note."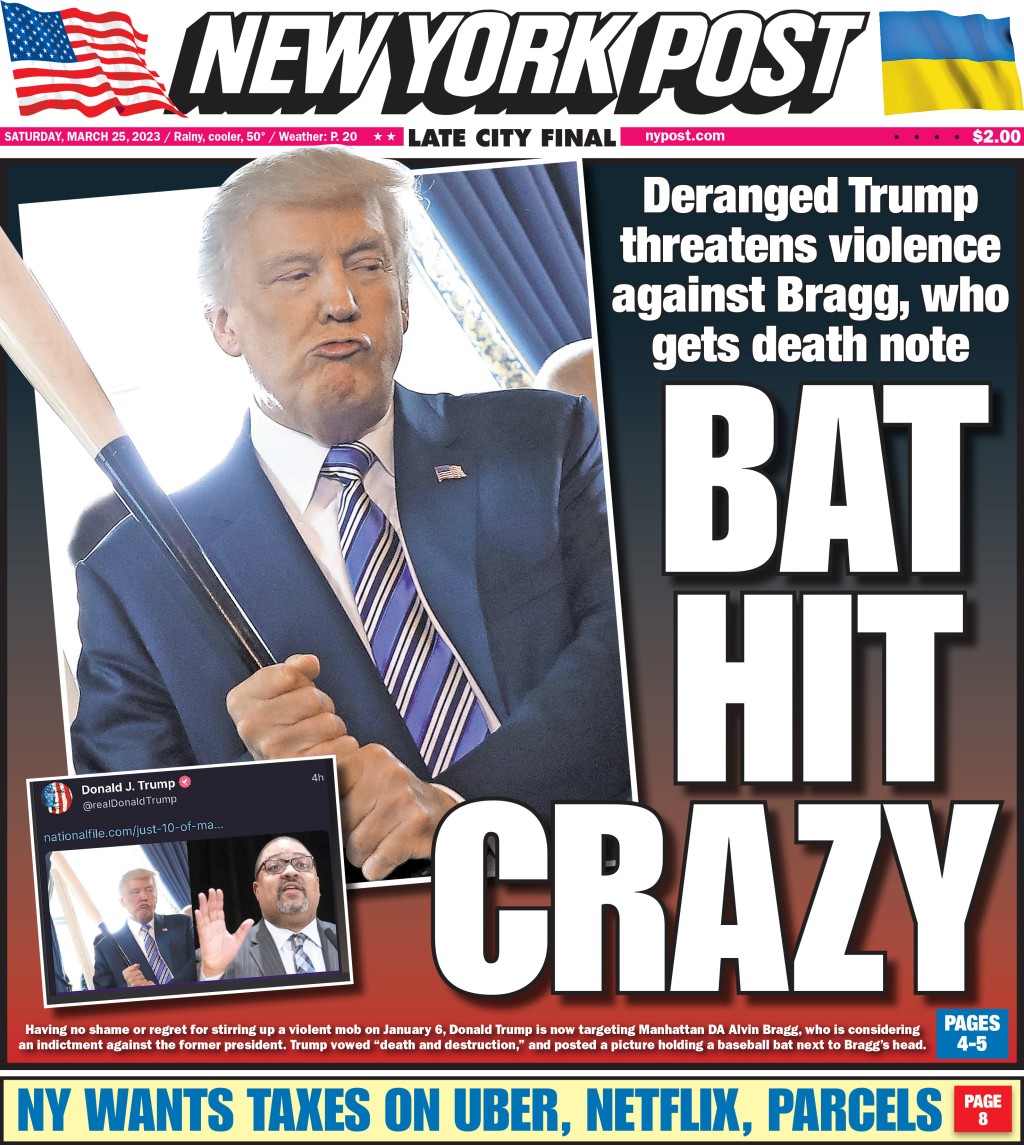 In their article on the threat against Bragg, the Post similarly connected the incident to Trump:
A pair of bomb threats were called into the courthouse earlier this week, delaying the proceedings once, although it was unclear if they were connected to Trump's case.

The powder was found hours after Trump threatened Bragg with "death and destruction" if the former president is indicted in New York City over hush money paid to porn star Stormy Daniels in 2016 during his first campaign for the White House.
Trump deleted the post after the threatening letter, and after a backlash that included The Drudge Report running a headline on Friday that read "PSYCHO DON!" and "THREATENS MANHATTAN DISTRICT ATTORNEY".
The deleted post is just the latest in a series of threats, incitements, and attacks that have included calling Bragg, who is Black, an "animal" and calling on supporters to protest, while also deriding the idea that they should be expected to remain "peaceful."
Have a tip we should know? tips@mediaite.com