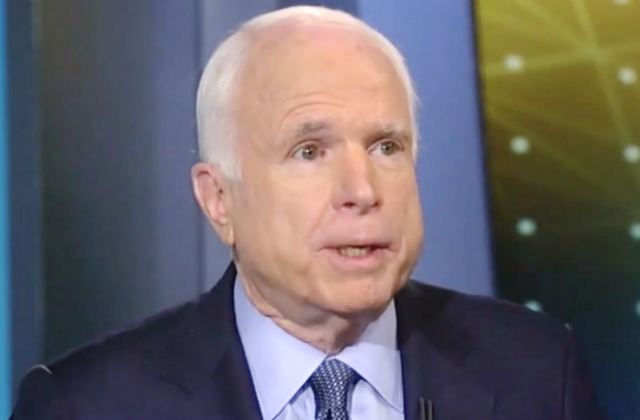 Sen. John McCain tweeted out a column by the New York Times' Bret Stephens which decried President Donald Trump for his comments that immigrants from Africa are "people from shithole countries."
The Arizona republican tweeted out Stephens' Saturday column along with the caption "Must-read @nytimes column by @BretStephensNYT today":
Must-read @nytimes column by @BretStephensNYT today https://t.co/9eXPq9pNWi

— John McCain (@SenJohnMcCain) January 13, 2018
The column McCain is calling a must-read? It's a vigorous rebuke of the president's reported comments, titled "Proud to Live in a Nation of Holers."
Stephens starts out by describing his grandfather's humble beginnings in Moldova, which the columnist says would surely qualify as one of Trump's "shitholes."
He continues:
I'm not alone. America is a nation of holers. It is an improbable yet wildly successful experiment in the transformation — by means of hope, opportunity and ambition — of holers into doers, makers, thinkers and givers. Are you of Irish descent? Italian? Polish? Scottish? Chinese? Chances are, your ancestors did not get on a boat because life in the old country was placid and prosperous and grandpa owned a bank. With few exceptions, Americans are the dregs of the wine, the chaff of the wheat. If you don't know this by now, it makes you the wax in the ear.

Donald Trump is the wax in the ear.
Stephens continues by asking why the president thinks people from the countries he disparaged — reportedly Haiti, El Salvador and unspecified nations in Africa — "are any less fit to become Americans than the Norwegians he seems to fancy?"
"The obvious answer," Stephens writes, "is racism, the same 'textbook' case that Paul Ryan spoke of in June 2016 after Trump called a federal judge's fitness into question on account of his ethnic heritage."
After wrapping up with a defense of immigrants and American ideals, Stephens lands on a blistering condemnation of the president:
Maybe there really is something wrong with the president's head. Modify with any four letters you wish.
[image via screengrab]
—
Follow Aidan McLaughlin (@aidnmclaughlin) on Twitter
Have a tip we should know? tips@mediaite.com
Aidan McLaughlin - Editor in Chief