Sarah Sanders Slams WSJ After Pornstar Payoff, NoKo Reports: 'FAKE NEWS IS AT IT AGAIN'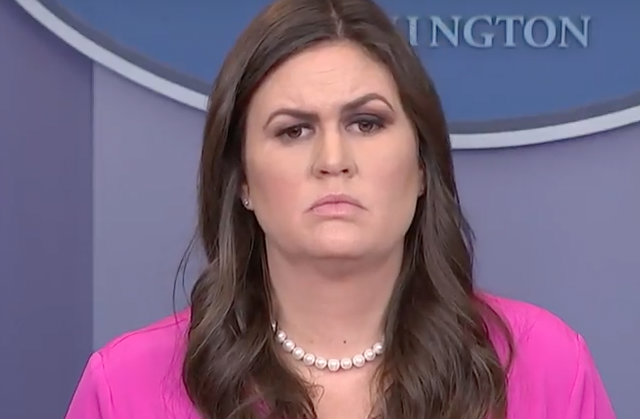 As Washington D.C. reels through the weekend following a report from the Wall Street Journal that alleged the President Donald Trump's lawyer paid a pornstar $130k to keep quiet about a sex affair, Press Secretary Sarah Huckabee Sanders is coming to her boss's defense — with memes.
The WSJ reported on Friday that Trump lawyer Michael Cohen paid Stormy Daniels the large sum one month before the 2016 election — as the then-candidate found himself dogged by numerous allegations of sexual harassment — in exchange for her silence about a reported affair the two had in 2016, when Trump was married to third wife Melania.
Cohen pushed back forcefully on the report, presenting a letter — signed by "Stormy Daniels," real name Stephanie Clifford — that claimed she never had sex with Trump.
Well Sanders is apparently pushing back on another report from the Rupert Murdoch-owned paper, one which reported Trump had some warm words for a certain North Korean dictator:
— Sarah Sanders (@PressSec) January 13, 2018
"I probably have a very good relationship with Kim Jong Un," the Journal reported Trump had said.
Well, according to Sanders, that's nothing but "FAKE NEWS."
"President Trump said, I'D probably have a very good relationship with Kim Jong Un of North Korea," she clarified.
"I'D — I'D — I'D" she continued. "NOT I!"
[image via screengrab]
—
Follow Aidan McLaughlin (@aidnmclaughlin) on Twitter
Have a tip we should know? tips@mediaite.com
Aidan McLaughlin - Editor in Chief