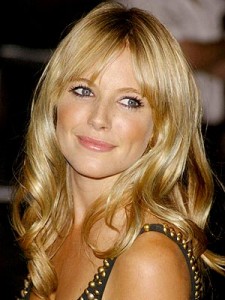 It would have been easy to confuse the New York Times for a celebrity gossip rag last week when they lead a story about the actress Sienna Miller by recounting her sexual exploits and all but calling her floozy. As reported by Gossip Cop, the paper goes so far to develop Miller's femme fatale image that they referred to her three year partnership and engagement to Jude Law as a "fling."
A few weeks prior, in a piece about Law, it was referred to as a "relationship," but in an effort to paint Ms. Miller in a certain light, the Times interpreted her sexual past in another direction entirely. The article is ostensibly about Miller's new turn in the Broadway show After Miss Julie, but the angle stinks of sexism and the all too typical "he's a stud, she's a slut" shaming tactic. The full first paragraph reads:
"SERIAL MILLER" is what the London tabloids like to call the 27-year-old actress Sienna Miller, in honor of her long and well-documented romantic history. Her flings have included Jude Law, Daniel Craig, James Franco and most recently the married oil heir Balthazar Getty, with whom she was photographed topless and in a sailor hat. She is also famous for her retro-hippie fashion sense, for enthusiastic partygoing and for occasional miscalculations like a same-sex toe-sucking incident after the 2006 Oscars.
The article also overestimated her sexual reach, claiming she had "flings" with two men with whom she has not. A rather embarrassing correction now appears below the online version of the story:
"An article on Page 4 this weekend about Sienna Miller misstates the nature of the relationships that she had with Heath Ledger and Sean Combs. She was friends with both of them; she did not have romantic flings with either of them."
Have a tip we should know? tips@mediaite.com