New York Times Union Stages Protest Inside Paper's Newsroom Demanding New Contract 'Now'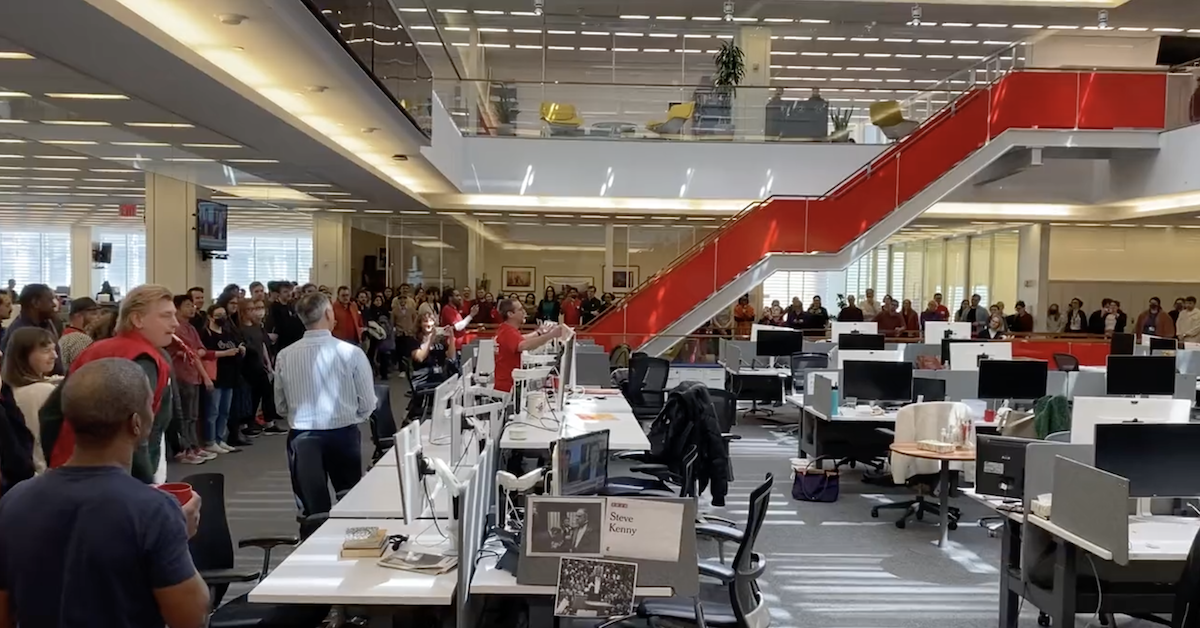 Members of the New York Times Guild Union protested inside the paper's newsroom this week, continuing a years-long contract dispute.
In footage captures by reporter Liam Stack, union members can be seen inside the newsroom demanding a new contract. It was noted that union members tried stopping by the offices of Times publisher, A.G. Sulzberger, and its president and CEO, Meredith Kopit Levien, but neither were in in the office.
"Must be nice to work from home!" one person the crowd yelled. Return to office orders are one of a number of things in dispute between the 1000-plus employees the union represents and the company itself.
In the video, the crowd chants "two years" at one point and demands a new contract "now" multiple times.
"Happening now: members of the @nyguild protesting inside the @nytimes newsroom. The contact expired 2 years ago today. Staff haven't gotten a raise in 3 years, while top executives have given themselves multimillion dollar raises," Stack tweeted with the video.
Other points that have been in negotiations for two years — Wednesday's protest marked the two year anniversary of the last contract expiring — over a number of issues, including wage increases.
In a December letter, the union accused the Times of claiming financial hardship while spending money on top brass and new ventures.
"In 2022, the @nytimes spent millions of dollars to purchase Wordle and The Athletic and allocated $150 million in stock buybacks to its investors. And yet it is still offering wage 'increases' that amount to pay cuts during record-high inflation," the union said at the time.
Have a tip we should know? tips@mediaite.com