Noonan: Biden's 'Gates of Hell' Remark May Have Forced Obama to Sound Tougher on ISIS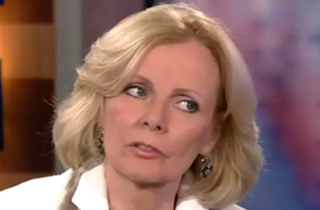 At the Wall Street Journal, conservative columnist Peggy Noonan wrote Friday that Vice President Joe Biden may be responsible for his boss's increasingly aggressive stance against ISIS.
Over the course of half a year, President Barack Obama has gone from calling the Islamic terrorist network "jayvee" in terms of its threat to America, to saying that the U.S. must "dismantle" it. The evolution occurred, of course, after the beheading of two American journalists was video recorded by ISIS members.
On Wednesday, though, Biden gave a speech in which he said, "we will follow them (ISIS) to the gates of hell until they are brought to justice."
Here's how Noonan digested it, emphasis added:
You also have to wonder if Vice President Joe Biden's remark on the Islamic State—"We will follow them to the gates of hell until they are brought to justice"—was also part of a private conversation gone public. Mr. Biden is irrepressible and likes to say ringing things, but his remark came across to me as a foreign-policy version of his famous 2012 comment that he was "absolutely comfortable" with gay marriage. It was his way of forcing the issue and pushing for an action he thought both advantageous and correct. Three days later, the president announced that he had reached the same conclusion.
Biden memorably preempted Obama's support for gay marriage by backing it first in an interview on NBC's Meet the Press, ahead of the 2012 presidential election.
[Photo via screen grab]
— —
>> Follow Eddie Scarry (@eScarry) on Twitter
Have a tip we should know? tips@mediaite.com