NY Times Savages Michael Moore's 'Shaggy and Self-Aggrandizing' One-Man Play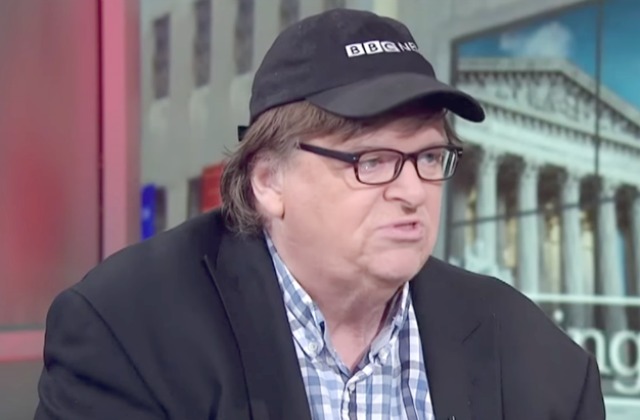 New York Times theatre critic Jesse Green tore the heart out of Michael Moore's one-man-play with a brutal review ripping the "shaggy and self-aggrandizing Broadway showcase."
"The Terms of My Surrender" opened last week, and features the progressive and filmmaker riffing about politics in the age of Trump.
As Green notes in his review, Broadway is fertile ground for Moore's brand of #Resistance entertainment — but the liberal firebrand fails to deliver:
Still, you don't have to disagree with Mr. Moore's politics to find that his shtick has become disagreeable with age. "The Terms of My Surrender," which opened on Thursday at the Belasco, is a bit like being stuck at Thanksgiving dinner with a garrulous, self-regarding, time-sucking uncle. Gotta love him — but maybe let's turn on the television.
Green writes that Moore is seeking "to help liberals turn their Post Traumatic Trump Disorder into practical action that might protect the country from four years of kleptocratic depredation," but the show "falls short of offering seriously useful ideas about how individuals can make a difference."
The Times critic goes on to argue that venue — a Broadway theater — paired with Moore's baiting creates something of an "unsavory" echo chamber:
To make up for this Mr. Moore affects a cute, common-man delivery that fools no one, though the crowd at the Belasco, including a few shills, claps for almost all of the bait he tosses. Some toss bait back, including vulgar imprecations against the president that are hardly distinguishable from the cries of "Lock her up" that horrify us in other settings.
Green concludes:
These moments suggest a thinking failure of his own: a failure to examine the inapt moral equivalences and disguised elitism inherent in his brand of provocation. The result is as confusing politically as it is theatrically. Audiences hoping for a bit of feel-good liberal therapy, let alone a good show, may be disappointed to find that Mr. Moore isn't very interested in them. He's not preaching to the choir: He's bragging to it.
[image via screengrab]
—
Follow Aidan McLaughlin (@aidnmclaughlin) on Twitter
Have a tip we should know? tips@mediaite.com
Aidan McLaughlin - Editor in Chief