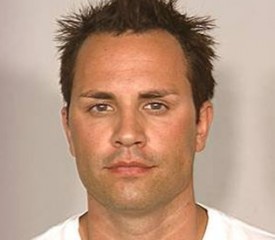 If you aren't yet familiar with salacious and gruesome tale of the murder-suicide of Ryan Jenkins and Jasmin Fiore, watch about 20 minutes of cable news – you'll quickly get up to speed. But despite the fact that the VH1 program he taped had only aired three episodes before getting pulled, the MSM has consistently portrayed Jenkins as a "reality star."   Was he really a star?
For those unfamiliar with Ryan Jenkins' television career, he was a contestant on a "Bachelor" style program called Megan Wants a Millionaire in which he was one of a number of supposed very wealthy suitors that sought the affection of the "host," Megan Hauserman. This show had wrapped taping earlier in 2009, but only begun airing in August 2. The show has been pulled after three episodes because of the gruesome and tragic events.
But as the story has been reported in both print and on television, Ryan Jenkins has been labeled to be a star; The Associated Press NY Times, Seattle Post-Intelligencer are just a handful of literally hundreds of news outlets that have given Jenkins star-status in reporting this story. Need more evidence? A Google search for "Ryan Jenkins" "Reality Star" reveals over 40,000 results.
It is true that in the last episode of Megan Wants a Millionaire to air, Jenkins was featured as the  contestant who won a solo date with Megan,  and most have used the qualifier "reality" in front of the word "star" in their reporting. But is the press trying to portray Jenkins as some sort of television talent in an effort to make this story bigger? It seems that the actual events of the story are big enough to merit attention.
Ironically, only now can one truly call Jenkins a "reality star," but for very different reasons than VH1 had intended. It will be interesting to see what programmers at the cable channel will do with episodes of "I Love Money 3" which is another reality program in which Jenkins participated. Will VH1 decide to risk a potential publicity nightmare in order to get what would probably be great ratings by exploiting the events of last week?
In a statement made on their website, VH1 said: "Ryan Jenkins was a contestant on Megan Wants A Millionaire, an outside production, produced and owned by 51 Minds, that is licensed to VH1. The show completed production at the end of March. Given the unfortunate circumstances, VH1 has postponed any future airings. This is a tragic situation and our thoughts go out to the victim's family."
The big winners in this gruesome story? Producers at Headline News. The Jenkins-Fiore story is red meat for the true crime viewers of Jane Velez-Mitchell and Nancy Grace. It looks like, at least for some, the summer news slump has ended.
Disclosure – I was producer of VH1's Best Week Ever from late 2003 to 2004, though I had little to no involvement in any of its reality series.
Have a tip we should know? tips@mediaite.com