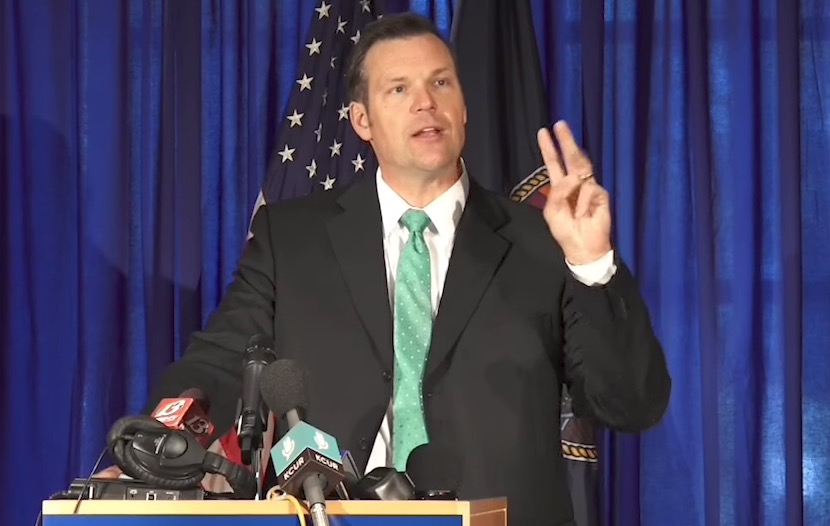 Kris Kobach, the Kansas Secretary of State who serves on President Donald Trump's voting commission, has asked every U.S. state to provide him "with the names, birthdates and Social Security information for registered voters going back to 2006," according to The Kansas City Star.
Trump established the Presidential Advisory Commission on Election Integrity after he needed justification for claiming (without evidence, but of course that's what the new commission is for) that millions of illegal votes were cast in the 2016 election.
The president has repeatedly cried voter fraud as an explanation for why he lost the popular vote to Hillary Clinton by millions of votes, despite winning the electoral college.
From the Star:
In a Wednesday letter, Kobach asked the Connecticut secretary of state's office to provide the commission with all publicly available voter roll data, including the full names of all registered voters along with their addresses, dates of birth, the last four digits of their Social Security numbers, voting history and other personal information.
As Ari Berman points out in The Nation, while Kobach asked for some public voter information, "much of this information, like someone's Social Security number or military status, is, in fact, private."
"Never before has a White House asked for such broad data on voters," he writes.
Kobach has long exaggerated the threat of voter fraud, and has worked to limit access to voting in Kansas. The secretary of state has been sued "four times by the ACLU for voter suppression and was sanctioned by a federal court last week for 'deceptive conduct and lack of candor.'"
Some conservative commentators seized on the news Kobach is seeking private voter information, pointing out that their party was once concerned with government overreach.
And some states, including California, have indicated that they will not comply with Kobach's potential request.
According to the Star, Kobach clarified that "the personal data would be hosted on a secure server run by the federal government and not disclosed to the public," and argued that "the request for the Social Security digits was meant 'to prevent false positives,' such as when two people share the same name and birthday."
[image via screengrab]
—
Follow Aidan McLaughlin (@aidnmclaughlin) on Twitter
Have a tip we should know? tips@mediaite.com
Aidan McLaughlin - Editor in Chief