Roy Moore Still Hasn't Conceded, Now Calling Out Doug Jones' Son For Being Gay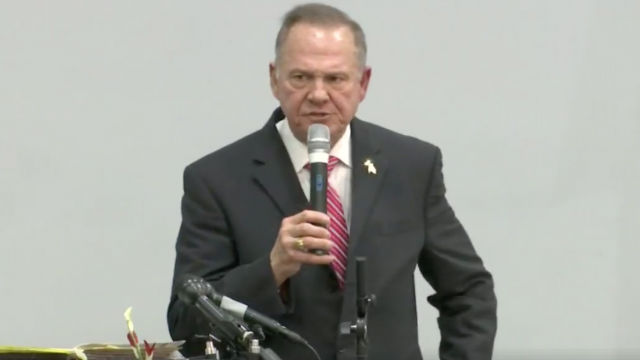 On the day in which it was revealed that it was mathematically impossible for Roy Moore to win a recount in his never-ending quest to unseat Doug Jones, the Alabama Senate candidate decided to take the high ground and attack Jones' gay son.
Everyone's favorite suspected child molester, and confirmed horse whisperer, took to Facebook to inform Alabama voters of the shocking news that, gasp, Carson Jones is not only gay, but he's not even ashamed of it. The nerve!
Moore simply posted a link to a profile on Carson by The Advocate without comment, painting a fairly obvious picture, one in which he hoped members of his waning fanbase would clutch their pearls at the thought of gay demons terrorizing Alabama — and a glance at the comments beneath the post are revealing of the reaction this provoked.
It must again be noted, again, that Moore still hasn't conceded from the race. Does he think voters will become so enraged by the news that Doug Jones has a gay son that they will take to the streets, demanding that Moore ride Sassy the Horse all the way to Washington D.C., using his tiny gun to take the Senate seat by force? Maybe? Probably?
Folks on Twitter took note of the disgraced candidate's paean to homophobia, piling on accordingly.
Clearly, becoming a United States Senator was Roy Moore's retirement plan. He does not appear to have prepared an alternate plan. https://t.co/eipS7bsG38

— Joy Reid (@JoyAnnReid) December 21, 2017
Good morning to all, except Roy Moore who is trash. pic.twitter.com/4XuKTyKek3

— Anthony Michael Kreis (@AnthonyMKreis) December 21, 2017
Who is Roy Moore? https://t.co/7z3kSo9DW5

— SalenaZito (@SalenaZito) December 21, 2017
Roy Moore still has not conceded the AL-SEN race, and oh yes also he is a bigoted scumbag who attacks his opponent's children. pic.twitter.com/rC4GWZav3I

— Jeff B/DDHQ (@EsotericCD) December 21, 2017
I'm honestly surprised to learn Doug Jones has a gay son and Roy Moore never threw that in his face DURING the election https://t.co/qWK9LYRhpc

— Griswold Christmas Vacation (@HashtagGriswold) December 21, 2017
Alabama's Roy Moore blames the Muslims & the gays for stealing his God-guarranteed election https://t.co/4WrT7MhLcb

— Noga Tarnopolsky (@NTarnopolsky) December 21, 2017
Roy Moore: "I was flipping through The Advocate the other day."
Staffer (does he still have staffers?): "Sir, that's, uh, a gay magazine."
Moore: "That's neither here nor there."

— Chris Geidner (@chrisgeidner) December 21, 2017
lmao holy shit roy moore is so mad online pic.twitter.com/AOEaiCm9JL

— jordan yule log ⛄️ (@JordanUhl) December 21, 2017
Moore also recently took to Facebook to post a link to an article with the headline "How Muslims and Marxists delivered for Doug Jones."
[image via screenshot]
—
Follow Lawrence Bonk (@sidescrollers) on Twitter
Have a tip we should know? tips@mediaite.com