Trump Furiously Raves About Tucker Interview While Promoting His 'ARREST TIME' in Frantic Rant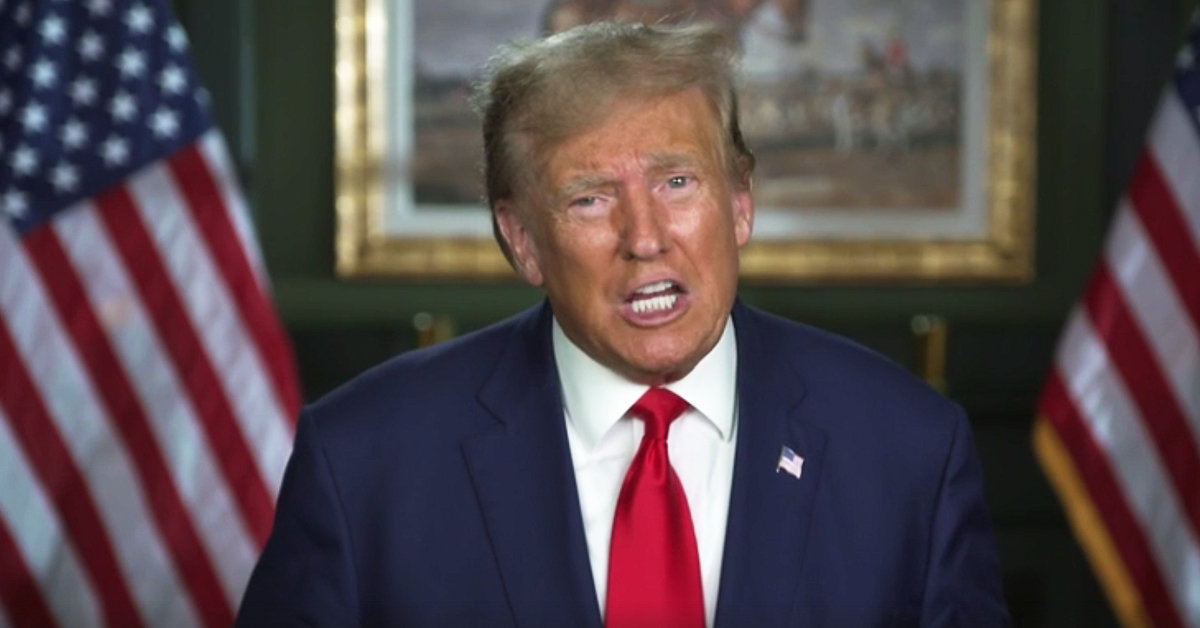 Ahead of surrendering to authorities in Fulton County, Georgia on charges related to conspiracy charges, former President Donald Trump ranted on Truth Social about the arrest, the district attorney who indicted him, and… his interview with Tucker Carlson.
In a post that appears to have been deleted and reposted, Trump once again raved about the viewership of his interview with Carlson, which was post on X/Twitter during Wednesday's GOP presidential primary debate. But while the post-mortem of the debate continues, political news media has their eyes on the other Trump story, and that is the latest legal proceeding related to his fourth indictment. And he has plenty to say about that too:
231,000,000 Views, and still counting. The Biggest Video on Social Media, EVER, more than double the Super Bowl! But please excuse me, I have to start getting ready to head down to Atlanta, Georgia, where Murder and other Violent Crimes have reached levels never seen before, to get ARRESTED by a Radical Left, Lowlife District Attorney, Fani Willis, for A PERFECT PHONE CALL, and having the audacity to challenge a RIGGED & STOLLEN ELECTION. THE EVIDENCE IS IRREFUTABLE! ARREST TIME: 7:30 P.M.
Here's the screenshot: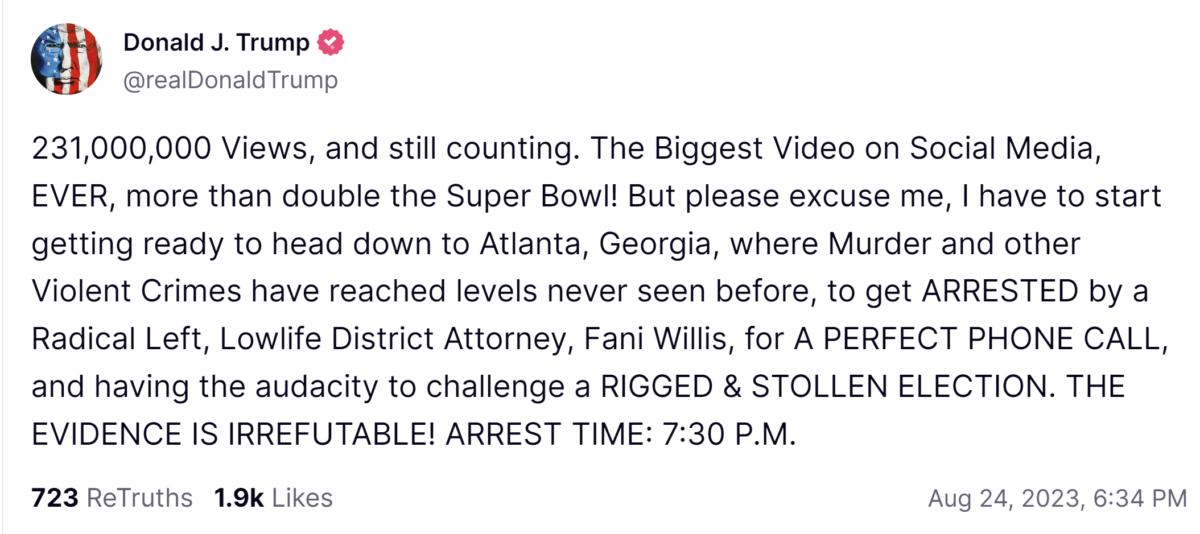 Trump's numbers don't reflect actual viewers as a "view" counts anyone who happened to see the post containing the video whether or not they actually watch it. But some people did watch it, and apparently, both the interviewer and the subject had some grievances.
Notable about this post — and why it may have been deleted before it was reposted — was another attack on Atlanta District Attorney Fani Willis, whom Trump has repeatedly attacked. Trump's supporters in the U.S. House of Representatives announced their own inquiry into Willis, who has been the target of racially-based threats since handing down the indictment against the former president. Trump has been warned about the rhetoric he uses on social media, which can be seen by some of his followers as calls to action. But in this case, refraining from "intimidating" people involved with his case on social media is a condition of his release.
Then again, he posted again on Truth Social with another jab at Willis, so it looks like he's making this arrest an attack on his own dignity:
Why is there so much MURDER in Atlanta? Why is there so much Violent Crime? People are afraid to go outside to buy a loaf of bread! One big reason is that failed District Attorney, Fani Willis, who is campaigning and fundraising off "get Trump" (much like the others!), doesn't have the Time, Money, or Interest to go after the real criminals, even the REALLY Violent ones, that are destroying Atlanta, and its once beautiful culture and way of life. This is yet another SAD DAY IN AMERICA!
Have a tip we should know? tips@mediaite.com