40 Ounces And A Tool: Fox's Eric Bolling Says President Obama Hosting 'Hoods' At The 'Hizzouse'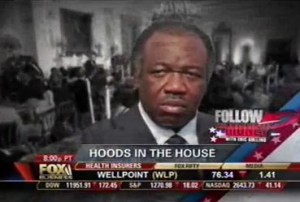 Fox Business' Eric Bolling stirred controversy awhile back when he converted the pint that President Obama shared on a trip to Ireland into a bigger-and-deffer 40 oz, and this past Friday, he rolled out some more hip-hop parlance, accusing Obama of hosting "hoodlums" in the "hizzouse," and later, referring to The White House as"the big crib."

Just as with his "forties" comment, Bolling's latest outburst has spurred accusations of racism, with The Atlantic's Jeffrey Goldberg calling it "Open, and Revolting, Anti-Obama Racism." Maybe Bolling is just the world's biggest Snoop Dogg fan?
The segment in question refers to a meeting the President had with Gabonese President Ali Bongo Ondimba in the Oval Office on Thursday. The substance of Bolling's "criticism" is almost beside the point, as his own panelists pretty much demolish the notion that only saints should visit the White House: (from Fox Business Network)
Bolling's defense of the 40 oz. remark involved the fact that white people (himself included) drink "forties," and perhaps his defense, in this case, will also involve white co-opting of black culture. Surely Bolling is free to explore his love of hip-hop by using terms, like "hizzouse" and "crib," that have been popularized by the form.
However, it is curious how the Holy Hip-Hop Ghost only seems to possess Bolling when he's talking about our first blizzack Prizzezzident, Barizzle Obizzle, and how this obvious student of the sweet science of dropping science thinks that Common is a "hood."
Either way, it's a free country. Bolling can kick some slang out, and others can call him out for trying to marginalize the President as a ghetto stereotype. Bolling would have more of a leg to stand on if his charge had any merit. As The Atlantic's Jeffrey Goldberg pointed out, the Gabonese President is also the current President of the UN Security Council, and according to The White House, there were no S'mores served at the meeting, but rather, a helping of acknowledgement that Gabon's President is, indeed, not a saint: (via email from The White House)
President Obama and President Ali Bongo Ondimba of Gabon met today and discussed a wide range of multilateral and regional issues, including security, environmental protection and the economy. The Presidents discussed Gabon's presidency of the United Nations Security Council, including its chairing of an important session on HIV/AIDS. President Obama recognized Gabon's leadership on Libya, Sudan, Cote d'Ivoire and other issues. The leaders exchanged views on Libya, reaffirmed their support for U.N. Security Council Resolution 1973, and their shared desire that a democratic transition in Libya should begin for the Libyan people. President Obama urged President Bongo Ondimba to take bold steps to root out corruption and to reform the judiciary and other key institutions to ensure the protection of human rights, and he welcomed the reforms that Gabon has taken under President Bongo Ondimba to bring more transparency and accountability to government. Both leaders agreed to continue to work together to promote peace and security, as well as advance good governance in Gabon.
There is legitimate criticism to be made here, such as the fact that the press were only permitted to take still photos, but it takes a special kind of contempt to characterize an Oval Office meeting with a UN official as "entertaining," or to equate it with a poetry reading by a "very positive" rapper like Common.
Goldberg also points out that Ali Bongo's predecessor and father, the late Omar Bongo, also visited The White House, and met with then-President Ronald Reagan in – GASP! – the Oval Office, and the two even had lunch together in the Residence! It's unkown, though, whether S'mores and "forties" were served. Maybe Bolling can get on the case.
(h/t MMFA)
Have a tip we should know? tips@mediaite.com