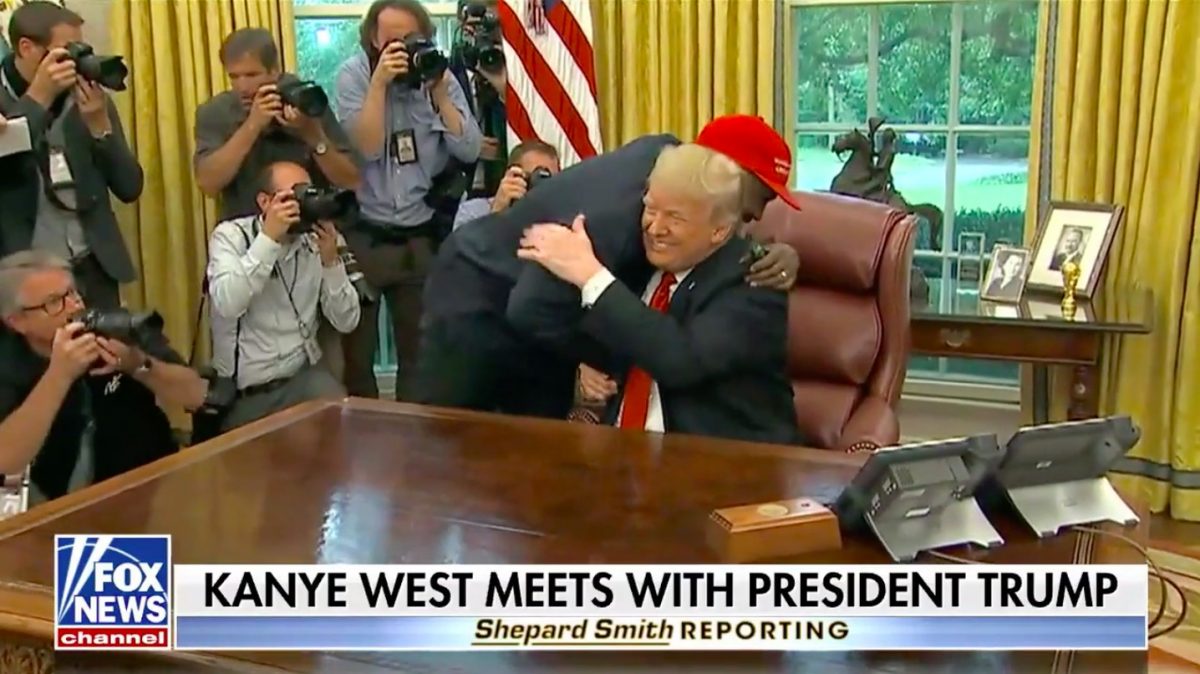 Kanye West joined President Donald Trump in the Oval Office on Thursday, and embarked on what might be the wildest caught-on-camera moment ever broadcast from the White House.
West — rapper, producer designer and now Trump supporter — unleashed a 10-minute rant before Trump and a large group of White House reporters gathered in the room. The frenzied monologue touched on everything from his struggle with bipolar disorder to Hillary Clinton, Colin Kaepernick, gun rights and a hydrogen iPlane.
The spectacle was astounding simply because it might be the first time Trump was silenced by someone else's inchoate ranting. One had to wonder, watching the president watch West, if he regretted inviting him to the White House. Then West showered Trump in gooey praise and that wonder completely subsided.
Watch the wildest moments below.
Kanye calls himself a "crazy motherfucker"
"Let's stop worrying about the future. All we really have is today," he said, adding: "Trump is on his hero's journey right now, and he might not have expected to have a crazy motherf—er like Kanye West."
Kanye says Hillary Clinton's campaign slogan didn't make him feel like a man who could play catch with his son, whereas Trump's hat made him feel like Superman
Kanye West to Trump in Oval Office: "I love Hillary. I love everyone, right? But… there was something about when I put this hat on that made, it me feel like Superman." https://t.co/g1QuChosCa pic.twitter.com/sGGVjV7qMQ

— The Hill (@thehill) October 11, 2018
"The campaign 'I'm with her' just didn't make me feel as a guy, that didn't get to see my dad all the time, like a guy that could play catch with his son," Kanye said. "There was something about putting this hat on that made me feel like Superman."
"You made a Superman. That's my favorite super hero. And you made a Superman cape."
Kanye shows Trump a GIF of a hydrogen iPlane, reveals his iPhone passcode is 000000
Here's the moment Kanye unlocked his phone to show Trump a gif #tictocnews pic.twitter.com/CFD2XYbmns

— TicToc by Bloomberg (@tictoc) October 11, 2018
"This right here is the iPlane 1," Kanye said. "It's a hydrogen-powered airplane. And this is what our president should be flying in."
"Look at this, Jerry," Kanye added, gesturing towards Jared Kushner.
Kanye West and Donald Trump hug it out
"I love this guy right here," Kanye said. "Let me give this guy a hug. I love this guy right here."
Kanye spars with reporters, expresses support for gun rights
Kanye, as reporters began to lob questions at him after his tirade, warned them that he doesn't answer questions in sound bites.
"You are tasting a fine wine that has multiple notes in it," he said.
He was eventually asked about gun violence, and gave this response: "The problem is illegal guns," Illegal guns is the problem, not legal guns. We have the right to bear arms!"
Have a tip we should know? tips@mediaite.com