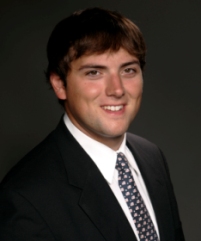 Luke Russert is a Washington D.C.-based correspondent for NBC News covering Capitol Hill, after being hired this time last year as a reporter covering youth issues. On the Web, he regularly writes for the First Read blog on MSNBC, and of course, you can find him on Twitter. There's radio too – he continues hosting "60/20 Sports" with James Carville on Sirius/XM. The 23-year-old Russert is developing his own identity in the media world, after beginning his career as most notably 'Tim Russert's son.' Now he participates in our latest edition of 5QQ – Five Quick Questions:
1. How do you get your first news of the day?
I use my Blackberry as my alarm clock, therefore when it goes off I hit dismiss and then immediately open an email from Mark Murray that contains MSNBC's "First Read." I read the whole thing in bed before taking a shower.
2. Either, Or (you gotta pick one!): Letterman or Conan, Blackberry or iPhone, Oprah or Ellen, Time or Newsweek?

Conan- He's the best and I interned for him.
Blackberry- The battery lasts longer than 10 minutes.
Oprah- She's a living legend and I love Gayle King.
Newsweek– My mom got her first big break there so I am always thankful to them for giving a young woman a shot in the early 70's- back then it was sadly a novel concept.
3. What's the biggest story the media has missed this year? (Or last week):
Year in and year out, the media continues to ignore the basic fact that between our skyrocketing national debt and the trillions of dollars that entitlement programs will cost in the coming years, the Millennial Generation is going to be faced with extreme economic hardship. Folks from Brookings and the Heritage Foundation will both tell you that if government spending continues on its current course, by the time the Millennials are in their 50s and 60s there will not be enough money to pay for basic programs that Americans have been accustomed to having. 60 Minutes did a piece on this I believe in late 2007 or early 2008 when they interviewed David Walker then the head of the Government Accountability Office. However, I am continually amazed that more attention is not given to the issue. There is no doubt that car chases and celebrity gossip gets ratings, but more attention needs to be paid to large issues and their impact not at this very moment but thirty and forty years from now.
4. Obligatory Twitter Question: Describe yourself in 140 characters or less (hash tag optional!).
Independent. Proud American. Devout Catholic. Huge sports fan. Lover of politics and American History. Groupie for Springsteen & Jack White
5. Are you nervous or excited about the future of Journalism? Why?
Being twenty three years old I am very excited. The future of journalism on the broadcast side lies in the integration of TV and the internet. I think that the industry has only scratched the surface in this area and that just five years from now we will broadcast information in an entirely new a concise way through various platforms. While these are hard times for print, I do believe there is a market for good news content and print is what delivers that in the best way. My hope is that Google or another ground breaking company with deep pockets gets involved in the media business and buys something like the Boston Globe so there is a blueprint for innovative journalism grounded in first rate content coupled with great videos and podcasts etc. Whatever happens I just feel lucky to be in the business at the dawn of a new era.
Check out Luke Russert's current standing on the Mediaite Power Grid
Have a tip we should know? tips@mediaite.com