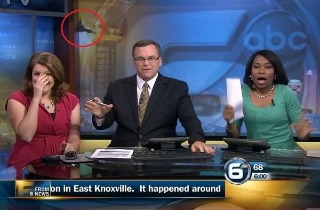 Good morning, Tennessee. The weather forecast for today is cloudy with a chance of… bats?
Yeah.
The anchors of Good Morning Tennessee were greeted by an unexpected guest Wednesday morning as they began their 6 a.m. newscast.
I guess nothing says "good morning" like a bat flying in your studio. The WATE-TV anchors kept their cool as the broadcast started, but once lead anchor Bo Williams pointed out the bat, his co-anchors didn't take too kindly to the animal.
"Hey, there's a bat flying behind us!" Williams noted.
RELATED: Dog Days Of Summer: Ten Animals That Ruined Live Television Segments
Meteorologist Julya Johnson and co-anchor Tearsa Smith chimed in on Twitter following the incident:
And animal control left. And the bat is still here. They can't get it because it crawled in a corner to sleep. EEEK! @TearsaSmith @jakeseth

— Julya Johnson (@julyajohnson) September 10, 2014
My nerves are so shot right now…

— Tearsa Smith WATE (@TearsaSmith) September 10, 2014
WATE-TV said the bat "evaded capture for several hours" despite their best attempts which included calling Animal Control. "Eventually though, with the help of the professional crew the Varmint Busters, the intruder was caught."
"It dive bombed us and you could literally hear me screaming because we're on TV and I get that and it's a newscast, but I was gone!" said Smith.
Luckily for the bat, "Varmint Busters" said they plan on releasing the bat into a wooded area.
Watch the chaos unfold below, in all its glory, via WATE-TV:
[h/t Huff Post]
[image via WATE-TV]
— —
>> >> Follow Andrew Desiderio (@forza_desiderio) on Twitter
Note: Mediaite intern Andrew Desiderio is a student at The George Washington University.
Have a tip we should know? tips@mediaite.com