'A Shameful Display of Cowardice': Earnest Rips GOP Senators For Rejecting Gun Control Bills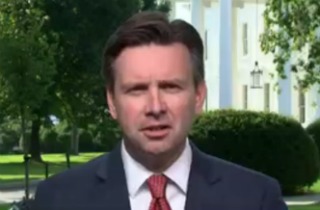 White House press secretary Josh Earnest appeared today on Morning Joe, where he expressed unapologetic anger over the conservative Senate's "cowardice" in its decision on how to move past the Orlando shooting.
Today on the show, host Joe Scarborough noted that the Senate shot down four gun control amendments yesterday despite polling showing that many Americans want to see stronger measures of legislation. Earnest defended the measures as "common-sense" bills with bipartisan support, and he said it was "a shameful display of cowardice" that so many conservatives failed to break with the NRA.
"Cowards are people who talk really tough in the hope they'll not be asked to actually act and do something," Earnest said. "Republicans have run around and spent the last week saying radical Islamic extremism to anybody who will listen, but when it actually comes to preventing those extremists from being able to walk into a gun store and buy a gun, they're AWOL."
Earnest went on to say that it was disappointing to President Obama that gun laws are unlikely to change before Congress does so itself. The press secretary also went on about how gun violence occurs most days in America, and that it is possible to create laws that would keep guns away from potential criminals while respecting the rights of law-abiding Americans.
In the end, Earnest said he wasn't sure of what could make Paul Ryan and Mitch McConnell change their minds when America's worst mass shooting ever was already proceeded by horrific events like the Sandy Hook massacre.
[Image via screengrab]
— —
>> Follow Ken Meyer (@KenMeyer91) on Twitter
Have a tip we should know? tips@mediaite.com