UPDATE – ABC Corrects Report: ABC News' Brian Ross Links Colorado Shooter To Local Tea Party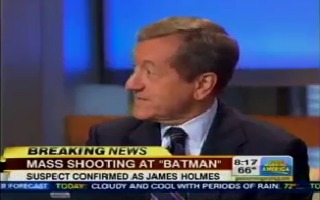 On ABC News' Good Morning America George Stephanopoulos, interviewed Brian Ross who reported that there may be a link between the alleged Colorado shooter and the Tea Party.

RELATED: Fox & Friends Guest Speculates On Future Movie Theater Security: No More Costumes, Props In Theaters
At least 12 people were killed and more than 50 people were injured at a shooting in a movie theater in Colorado early Friday morning. During ABC News' coverage of the shooting on Friday, Stephanopoulos noted that Ross had discovered that the alleged shooter, Jim Holmes, may be linked to the Tea Party.
"There's a Jim Holmes of Aurora, Colorado, page on the Colorado Tea Party site as well, talking about him joining the Tea Party last year," said Ross. "Now, we don't know if this is the same Jim Holmes. But it's Jim Holmes of Aurora, Colorado."
A personal page on a Colorado Tea Party website shows a user named Jim Holmes highlighted an event with an expert who had discussed "global Islamic terrorism. " This link between the shooter and the Tea Party that ABC News was referring to.
UPDATE: ABC News has issued a correction to their earlier report. The alleged shooter was not linked to the Colorado Tea Party:
An earlier ABC News broadcast report suggested that a Jim Holmes of a Colorado Tea Party organization might be the suspect, but that report was incorrect. Several other local residents with similar names were also contacted via social media by members of the public who mistook them for the suspect.
Watch the clip below via ABC News:
h/t Breitbart.com
> >Follow Noah Rothman (@Noah_C_Rothman) on Twitter
Have a tip we should know? tips@mediaite.com