ABC's Amy Robach Discloses Breast Cancer Diagnosis on Good Morning America, Plans Mastectomy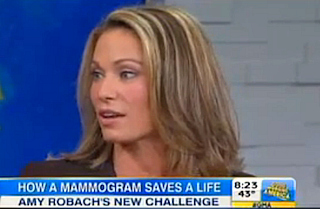 ABC News correspondent Amy Robach appeared on Good Morning America Monday morning and revealed that she had breast cancer, a diagnosis that began when she got a mammogram as part of a previous segment on GMA.
"I know that I have a fight ahead of me, but I also know that I have a lot worth fighting for," Robach said.
Robach admitted she "took one for the team" during GMA's Breast Cancer Awareness Month several weeks ago by getting a mammogram on-air "to demystify it for women who might be nervous."
"If I got the mammogram on-air and it saved one life, it would be worth it," she said she'd been told before the initial segment. "It never occurred to me that life would be mine."
In an accompanying post, Robach said she went back into the doctor's office for what she thought would be a follow-up, only to be given the diagnosis. Cancer had been so far from her mind that she hadn't thought to bring anyone with her, though she said both her husband and her parents were with her in New York City by that evening.
Robach said she will undergo surgery in the coming weeks, which would reveal whether the cancer has spread and whether chemotherapy would be necessary.
"I can only hope my story will do the same and inspire every woman who hears it to get a mammogram, to take a self exam," Robach wrote. "No excuses. It is the difference between life and death."
Watch the segment below, via ABC:
[Image via screengrab]
——
>> Follow Evan McMurry (@evanmcmurry) on Twitter
Have a tip we should know? tips@mediaite.com