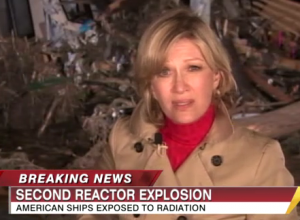 In the Japanese port city of Sendai, disaster survivors were sitting in a circle of chairs amid the rubble on Monday, when ABC's Diane Sawyer walked up with her crew, a translator, and a friendly greeting of konnichi wa. The ABC World News anchor, who'd just flown over the devastated city in a helicopter and visited a school turned into a shelter, is somehow both bigger than life and down to Earth. As she spoke to the group, a man offered Sawyer something to eat. In a country where millions have no food or water, Sawyer refused. The man insisted. Later, on Good Morning America, Sawyer shared the moment and described to viewers the "incredible kindness, and incredible strength" of the people she'd met.
That Sawyer would be the first network news anchor on the ground in Japan–and that she'd spend all of her time reporting, not simply shooting standups and preparing to "front" the newscast–comes as no surprise to her colleagues at ABC. "I think she'd rather be out there chasing the story," David Muir, anchor of World News Weekend and a correspondent who's traveled the globe with Sawyer, told Mediaite. "It's just in her blood."
Sawyer's unique combination of experience and energy has injected ABC's evening newscast with a new intensity, and has led to some of ABC's best ratings in years. "Diane has been here a year, and she has put her stamp on the broadcast," said Jon Banner, executive producer of World News. "We are leading, not following."
For Sawyer, whose career speaks volumes, and who has simply nothing left to prove to anyone, working tirelessly is just part of her DNA. "Diane Sawyer is the human embodiment of curiosity," ABC News president Ben Sherwood tells Mediaite. "Anchoring our coverage in New York or reporting from the quake zone in Japan, she has a unique ability to fuse information, insight and emotion, giving viewers a compelling and complete picture of what's happening in the world and why it matters. Diane is a truth seeker, relentless in her pursuit of what's interesting and important. Once more, she has shown these qualities since she landed in Japan on Saturday night. And these are the very strengths that distinguish ABC News every day."
Sawyer moved into the World News anchor chair after a series of turnovers–and makeovers–since the death of ABC's Peter Jennings; Charlie Gibson, Elizabeth Vargas and Bob Woodruff had all been there, but nobody had closed the gap with longtime evening news leader NBC Nightly News. Could Sawyer's star power as one of the most accomplished–and best known–journalists anywhere make the difference?
"One of the challenges when you've had as many transitions as we've had is holding the core audience," said Banner. How could ABC keep their loyal viewers satisfied, while also presenting something compelling to other viewers who sample the newscast? The answer became embodied by Sawyer herself: "Show them how far you're willing to go to get them the story," said Banner.

>>>>Next – How Sawyer's beat reporter chops help her in the anchor chair.
Have a tip we should know? tips@mediaite.com