ABC's Jake Tapper To Leon Panetta: Are You 'Uncomfortable' About Obama Politicizing Bin Laden Death?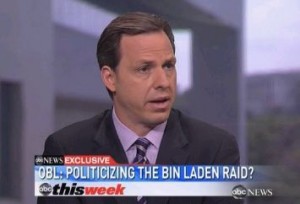 ABC's This Week aired today an exclusive interview between Jake Tapper and Defense Secretary Leon Panetta. Panetta talked about Iran and Yemen, among other important subjects, but Tapper brought up the presidential campaign and how the death of Osama bin Laden is being used as a political football by the president's team. Tapper asked Panetta if the attempts to suggest Mitt Romney would not have made the same call on the bin Laden raid made him feel "uncomfortable."
RELATED: David Gregory Calls Out Joe Biden For Using Bin Laden Death To Attack Romney
Tapper first brought up an upcoming movie about bin Laden by Hurt Locker director Kathryn Bigelow and asked Panetta how much intelligence agencies shared with the filmmakers. Panetta assured Tapper that "nothing inappropriate was shared," explaining how they get requests every so often from the entertainment industry.
Of course, Tapper then turned from the fictional portrayal of the bin Laden raid to the real thing. He tried to get Panetta to wade into the political by bringing up how President Obama has been using the death of bin Laden in campaign ads, and he asked the defense secretary if he feels "uncomfortable" about the president's team politicizing such an important moment in the history of national security.
RELATED: Mitt Romney: 'Disappointing' For Obama To Politicize Bin Laden Raid By Mentioning Me
Panetta recalled the moment of truth last year a "very special" one for the intelligence community, and said everyone regardless of political bent should be "proud" of the military for carrying out the mission. Tapper pressed him on the politicization of the mission, and Panetta only said that he "hope[s] Republicans and Democrats both would be justly proud of what was accomplished."
Watch the video below, courtesy of ABC:
Have a tip we should know? tips@mediaite.com
Josh Feldman - Senior Editor