Abrams: NY Times 'Absolutely Made the Right Call' in Publishing Dylan Farrow's Letter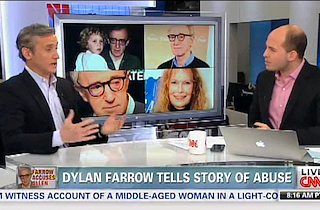 ABC News legal analyst (and Mediaite founder) Dan Abrams told Reliable Sources' Brian Stelter that the New York Times' decision Sunday night to publish Dylan Farrow's letter accusing Woody Allen of sexual assault was a "no brainer," and that the power of her details will reignite press coverage over the story.
"The legal system and journalists have two different obligations," Abrams said. "As a journalistic matter, this is news. This is a story that has been out there. To hear for the first time in her own words what she says happened? That's news, and I think the New York Times absolutely made the right call."
Stelter asked if the Times faced any legal challenges in publishing the allegations.
"If he says this is false and this is defamatory, [Allen's] got a remedy, and that is to file a lawsuit," Abrams said. "I don't think that's going to happen…Allen wants this to go away. You can tell that the Farrow family wants to make sure that this doesn't go away. They feel it's been forgotten unfairly."
RELATED: WATCH: Woody Allen Refuses to Comment on Dylan Farrow's Allegations of Sexual Assault
Abrams predicted Farrow's letter was forceful enough to return the matter to the public spotlight for some time. "This letter is so detailed and so powerful, that wherever Woody Allen goes in the next period of months, he's going to be asked about this, he's going to be questioned about it, he's going to be challenged about it," Abrams said. "As a news story, it's not going to fundamentally change, because we've known this was her position. It's the power of the details that she's presenting that's changed."
Watch the full clip below, via CNN:
[Image via screengrab]
——
>> Follow Evan McMurry (@evanmcmurry) on Twitter
Have a tip we should know? tips@mediaite.com