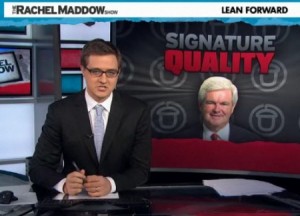 Filling in as host of The Rachel Maddow Show Thursday night, Up With Chris Hayes star Chris Hayes threw another log on the Newt Gingrich serial hypocrisy fire, tying the candidate's failure to get on the Virginia Republican primary ballot to a 2009 Gingrich op-ed that excoriated the "enablers" of ACORN's "long history of engaging in voter fraud."
Hayes points out that Gingrich enabled the same kind of "voter fraud," or, as it's called when white people do it, "a mistake."
On Wednesday, Gingrich said that the reason he didn't qualify for the Virginia ballot was that 1,500 of the 11,100 signatures his campaign turned in were fraudulent, leaving him short of the 10,000 needed.
As Hayes points out, Gingrich was a vocal critic of the now-defunct Association of Community Organizations for Reform Now (ACORN), whom he (falsely) accused the group of "adding such notables as Mickey Mouse and Donald Duck to the voter rolls," and even compared with Hamas (I'm not kidding).
Now, Gingrich blithely admits to engaging in nearly identical behavior, paying people to obtain signatures, and turning in a large number of fraudulent ones.
While Hayes is to be congratulated for calling Gingrich out, it's important to note that Gingrich's behavior was arguably worse than what ACORN was accused of. First of all, the "voter fraud" that ACORN was accused of didn't actually result in Mickey Mouse or Donald Duck being "added to the voter rolls."
In fact, ACORN was required, by law, to submit each and every voter registration that they gathered, no matter what, but unlike Gingrich, ACORN reviewed and flagged tens of thousands of dodgy applications to make it easier for registrars to weed out the likes of Mickey and Donald. Although it's a popular talking point, this type of "fraud" doesn't result in any fraudulent votes being cast.
Another distinguishing feature between ACORN and Gingrich is that, flagged applications notwithstanding, ACORN had a much better ratio of valid registrations to fraudulent ones than Gingrich. 13% of Gingrich's signatures were bogus, while ACORN's error rate was around 1.5%, according to Project Vote. Most of the ACORN applications that were rejected were duplicates, not fraudulent ones.
The biggest difference, though, is that ACORN was registering voters in heavily minority communities, registering the kinds of people that Newt Gingrich wants to fire and replace with poor little inner-city nine year-olds. Registering those people is a heinous crime. Fraudulently getting Newt Gingrich on the Virginia primary ballot, apparently, is just a "mistake."
I can live with the latter assessment. It's electing Gingrich that would be a crime.
Here's the clip, from The Rachel Maddow Show:
For more on this, see The Brad Blog's Brad Friedman, who also notes that Gingrich was worse than ACORN. Get your pimp suit on, James O'Keefe, we've got a job for you!
Have a tip we should know? tips@mediaite.com