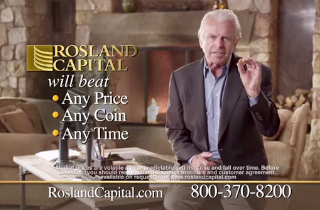 If you are a regular viewer of Fox News (as we here are at Mediaite), then you are intimately familiar with these four words: "Hi, I'm William Devane."
In recent years, the actor — best known for his role in long-running soap opera Knots Landing along with a recent turn as president in 24 — has become a pitchman for Rosland Capital's precious medals, sold as a hedge against economic collapse.

The commercials often feature stock video of unidentified rioters throwing Molotov cocktails while Devane warns of "political upheaval," offering Rosland's wares as the viewers' protection against such fresh hell.
Seeing as the spots air all too frequently on Fox, one needn't guess hard at whom they are aimed: The stereotypical Fox viewer, wary of the recession with fears that President Obama will plunge the country into anarchic collapse.
And yet, as NewsBusters discovered on Monday, Devane is actually a big Obama fan. In his own words, as quoted by USA Today:
"Obviously I'm a big fan of Obama, as a guy who's smart and articulate and supposedly leading all of us. I say to myself, 'what has got to be going on in the private side of this guy's brain' — the pressure, the racism that is thrown out — and he handles it with such dignity. There's gotta be a private side to him where he goes, 'Why do I have this job?'"
Probably not the best thing to say as a pitchman to Fox viewers who, based on your sales pitch, should see you as a humble soothsayer of economic collapse — not a collaborator with the enemy. In a way, it seems like the product is being sold almost antithetically to his stated beliefs.
Hey, while we are on the subject of Devane's prolific Rosland Capital output, watch a classic below. I call this one "Plane":
[Correction — 11:43 p.m.: A reader points out that the company Devane represents is actually Rosland Capital, not Goldline. This post has been corrected.]
— —
>> Follow Andrew Kirell (@AndrewKirell) on Twitter
Have a tip we should know? tips@mediaite.com