After Denial, Intelligence Official Now Admits He Was In The Dark On Key Terror Arrests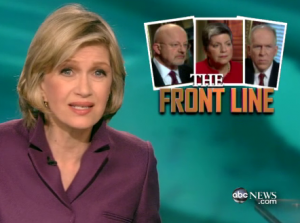 Oh, my. The nation's Director of National Intelligence, James Clapper, now admits he knew nothing about the key arrests in London of 12 suspects in a sweeping terror investigation when he sat down to talk about the nation's anti-terror defenses with ABC's Diane Sawyer.
In a cringeworthy performance, Sawyer asked Clapper what he knew about possible ties between the London arrests and any potential threat on the U.S. homeland. Clapper, who sat silent and obviously confused by the question, ultimately told Sawyer he didn't even know as much about the arrests as anybody who'd watched Good Morning America that day.

As Sawyer's interview sparked widespread discussion, the office of the DNI issued a statement suggesting–outrageously, it now seems–that it wasn't that Clapper didn't know about the arrests, but that he knows so much stuff about what's going on that it was hard to understand what Sawyer was asking with a vague reference to "London."
Well, nevermind. Today, ABC's Jake Tapper reports Clapper "had not yet been briefed on the arrests in the United Kingdom at the time of the taping." Oh my. Might want to just throw on cable in the morning when you get dressed for work?
ODNI spokesperson Jamie Smith, working damage control, issued this statement:
Clapper, she explained, had been "working throughout the day on important intelligence matters, including monitoring military and political developments on the Korean Peninsula, providing answers to questions concerning the ratification of the START nuclear treaty, and other classified issues. He wasn't immediately briefed on London because it didn't appear to have a homeland nexus and there was no immediate action by the DNI required. Nevertheless, he should have been briefed on the arrests, and steps have been taken to ensure that he is in the future. The intelligence community as a whole was fully aware of this development and tracking it closely."
Sawyer, sitting on a red-hot story heading into the holidays, will surely have more on World News tonight.
Have a tip we should know? tips@mediaite.com