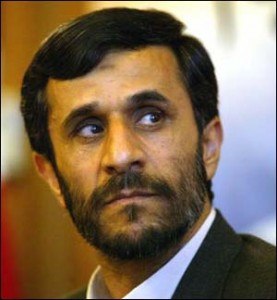 There goes the neighborhood.
Good Morning America host George Stephanopoulos interviewed Iranian President Mahmoud Ahmadinejad yesterday, and among the revelations was the fact that Osama bin Laden has been living in Washington, DC. He made the claim in response to allegations that bin Laden is living in Tehran, invoking the classic diplomatic doctrine "I am rubber, you are glue."
Among the (slightly) less insane points that Ahmadinejad touched on were:
– The fact that, while he considers Secretary of State Hillary Clinton "an enemy of Iran," President Obama somehow doesn't rate the distinction. Where was Ahmadinejad during the 2008 Democratic primary, when Hillary could have used him?
– Mitigating his backhanded endorsement somewhat, Ahmadinejad says "We don't have a special friendship with Mr. Obama." He offered, as proof, a Trapper-keeper that had Obama's name crossed out in several spots.
– Iran won't back down to sanctions, and doesn't consider Israel in his defense policy, saying "They can't even manage Gaza. They want to get into a conflict with Iran?"
– He wants justice for the 3 imprisoned American hikers, just as soon as they talk to the judge. They've been held without charges or access to a lawyer since July 31. When pressed, he promised to make "recommendations" to the judge. Good idea. I mean, what is this, Arizona?
– Asked to respond to allegations that Osama bin Laden has been seen in Tehran, Ahmadinejad revealed that the terrorist leader is actually living in Washington, DC.
Here's video of the interview. (Click here for transcript)
Have a tip we should know? tips@mediaite.com