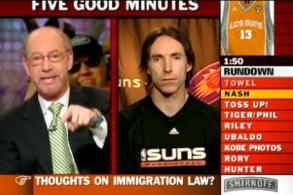 An NBA team will make a rare political statement tonight when it suits up with jerseys aimed at opposing the new Arizona immigration law.
The Phoenix Suns will be "Los Suns" tonight when they play the San Antonio Spurs, and players aren't holding back on their personal feelings either.
In an interview on ESPN's Pardon the Interruption yesterday, star player Steve Nash described the circumstances behind the decision. "Our owner asked us if any of us had a problem wearing the jerseys and nobody did," he said. "So I think we're pretty like-minded on this issue."
But it wasn't just the silent statement – Nash strongly spoke out against the law as well:
I'm against it. I think this is a bill that really damages our civil liberties, I think it opens up potential for racial profiling and racism. I think that it's a bad precedent to set for young people. I think it represents our state poorly in the eyes of the nation and the world.
The Bright Side Of The Sun blog has more from another player, Amar'e Stoudemire. "It's going to be great to wear Los Suns to let the Latin community know we're behind them 100%," Stoudemire said.
And the Washington Post reports the Suns' opponent, the San Antonio Spurs, tried to get "Los Spurs" jerseys to show solidarity on this Cinco De Mayo holiday, but the road jerseys couldn't come in time.
Needless to say, political statements in sports are a rare occurrence. But with the Arizona immigration law already intersecting with sports (in baseball) we could see more players and teams, or entire leagues, taking stands against the bill deemed by some to be unfair toward a set of people who make up large portions of the American sports world.
—–
» Follow Steve Krakauer on Twitter
Have a tip we should know? tips@mediaite.com