Al Sharpton And Touré Share Thoughts On Whitney Houston With Lawrence O'Donnell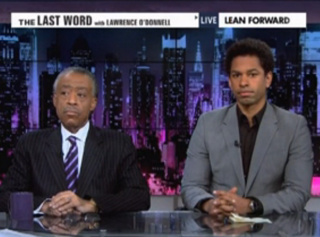 Lawrence O'Donnell dedicated most of his program tonight to the death of Whitney Houston, with friends and critics coming on the program to discuss the tragedy of losing Houston and sharing their thoughts on her impact and why she died so young. Among those were MSNBC host Al Sharpton and contributor Touré, one who spoke to the unity of the family around Houston, the other to the enormous stress that black artists in particular have to cope with after they reach a certain level of success.
RELATED: Wendy Williams Breaks Down In Tears Talking About Whitney Houston
Sharpton led the segment with an anecdote about Houston's mother, Cissy Houston, who he knew, and a time he saw the younger Houston. "I ran into her a couple of times last year," he narrated, and she thanked Sharpton for praying for her. He didn't quite remember doing that until he realized that "her mother had participated in a local group… and they had a healing session" for Houston and many younger folk who had suffered. "Cissy stood by her daughter like a rock," Sharpton recalled, adding that Whitney Houston herself was extraordinarily strong– "it's the getting up that takes a different kind of strength."
Touré spoke to the greater problem in the black artistic community, the "epidemic of death that is tragic among prematurely dying massive black singers"– noting that Houston, Michael Jackson, , and others had died young. Citing a conversation he had had with The Roots drummer Questlove, he noted that the artist had told him that there were several factors that contributed to the problem– an "extraordinary pressure and stress to succeed, year after year," but beyond that "an irrational fear of poverty," of failing so much that they end up where they once began.
The segment via MSNBC below:

Have a tip we should know? tips@mediaite.com