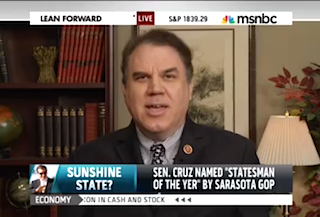 In an interview with CNN's Dana Bash Thursday morning, Sen. Ted Cruz (R-TX) threw down the gauntlet on his fellow Republican senators, accusing them of legislative "trickery" and defending his own attempts to block the vote to raise the debt ceiling. This afternoon, Rep. Alan Grayson (D-FL) tore into Cruz on MSNBC.
"Ted Cruz represents the element of the Republican Party that's trying to hasten the apocalypse," Grayson told MSNBC's Richard Lui. "These are people who think that Obamcare is helping to save lives and they want to destroy it anyway. These are people who understand a government shutdown causes chaos to the economy and they want to do it anyway. These are people who understand defaulting on the national debt would drive unemployment sky high, and they want to do it anyway."
When Lui mentioned that Cruz has been called "Statesman of the Year" by the Sarasota, Florida GOP, Grayson responded, "calling him the 'statesman of the year would be like calling Jim Jones the religious leader of the year." He said Cruz is "trying to create a mass suicide cult called the tea party, and lead it."
Grayson rejected the notion that he is Cruz's counterpart on the left-wing "fringe" of the Democratic Party. "My party is aligned directly behind me," he said. "My party is not a fringe group." He added, "If there were an Olympic gold medal for demagoguery, Ted Cruz would win the gold."
From there, the congressman brought up Cruz's Canadian citizenship, which the senator has taken steps to formally renounce, to demonstrate why he's not on the path to the presidency. "I think Ted Cruz is Canada's revenge against the United States for acid rain," Grayson concluded.
Watch video below, via MSNBC:
[photo via screengrab]
— —
>> Follow Matt Wilstein (@TheMattWilstein) on Twitter
Have a tip we should know? tips@mediaite.com