Anderson Cooper, Andrew Sullivan Tear Baldwin Apart: If He Used N-Word, 'He'd Be Over!'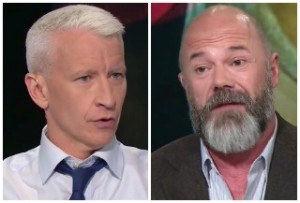 Anderson Cooper and Andrew Sullivan have not been shy about what they think of Alec Baldwin, and continued piling on the almost-definitely-at-this-point-ex-MSNBC host on AC360 Later Monday night. Cooper and Sullivan found it striking how Baldwin could get away with saying "fag" and that's that, but if he used the n-word or an anti-Semitic slur instead, his career would be over in an instant.
Neither of them bought Baldwin's explanations, with Sullivan saying that when someone is as angry as Baldwin was, they think of the "worst thing you could say to that person to demean them and to debase them," and it is very telling how the words Baldwin chose were some very homophobic ones. Sullivan said he's not a "thought police guy," but someone can't claim to be this big pro-gay progressive and then drop language like that every time someone pisses you off.
Cooper also found it laughable that Baldwin somehow doesn't understand what constitutes a homophobic slur until someone has to explain it to him, which, Cooper argued, has to be a blatant lie. Republican Ana Navarro brought up Paula Deen, and Cooper used that to point out just how little pushback Baldwin is really getting.
"If Alec Baldwin had yelled the n-word to that photographer or yelled an anti-Jewish slur against that photographer, he'd be over!"
Cooper added that the fact Baldwin actually trotted out his gay hairdresser to defend him might actually be one of the most ridiculous, parodical parts of this whole saga. He and Sullivan were also disturbed by the "deafening silence from gay liberals" and reactions from organizations like GLAAD that would not have been so reserved had a conservative uttered the same remarks.
Watch the full segment below, via CNN:
[photo via screengrab]
— —
Follow Josh Feldman on Twitter: @feldmaniac
Have a tip we should know? [email protected]
Josh Feldman - Senior Editor