Bravo's Andy Cohen Gets Rachel Maddow To Talk Olbermann, Hottest MSNBC Anchors
Bravo's Andy Cohen Gets Maddow To Talk Olbermann, Hottest MSNBC Anchors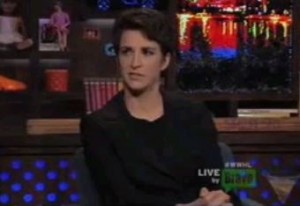 Watch What Happens Live!, hosted by Bravo all-purpose mogul Andy Cohen, is a unique talk show– cocktail drinks, impromptu game shows, and, as Saturday Night Live perfectly captured, often featuring one extremely accomplished guest and one Bravo reality TV character. Tonight the latter position fell to Jenni Pulos of Interior Therapy, who got to rap Sarah Palin speech texts at Rachel Maddow.

RELATED: Bravo's Andy Cohen Is A Drunk Megalomaniac On SNL
Yes, Rachel Maddow, MSNBC host and author of Drift, somehow ended up on bizarre cocktail show Watch What Happens Live, and it was endlessly entertaining. In true Andy Cohen form, the night's poll question was who among the listed MSNBC host was the hottest (it was a trick question– any MSNBC host list without Lawrence O'Donnell on it is incomplete). Maddow predicted that Ed Schultz would win, because he has a "heartland, barrel-chested virility that cannot be denied."
Cohen teased her a bit about high school afterwards– the famous yearbook photo of a young, blonde Maddow, and her graduation speech, including the word "condom." She laughed and explained herself, and then took viewer questions. Naturally, Keith Olbermann came up. "I was totally shocked," she explained of his departure from Current, "I did not know it was coming, it was crazy." She also wished Current TV the best: "I'm a liberal, I want there to be lots of places for other people to be liberal on TV. I want that to exist. I've heard this Bravo place is nice!"
The second half of her time on the show involved two games– one, "Plead the Fifth," gave her questions that had her saying nice thing about Mitt Romney and being excited at the possibility of sharing an elevator with Rush Limbaugh. The second game involved Pulos rapping Palin speeches and Common songs and having Maddow guess which was which.
The interview via Bravo below:
Part 1:



Part 2:

Have a tip we should know? tips@mediaite.com