Ann Curry Says Good-Bye On Today: 'I Love You And I Wanted To Give You The World'
Ann Curry Says Good-Bye: 'I Love You And I Wanted To Give You The World'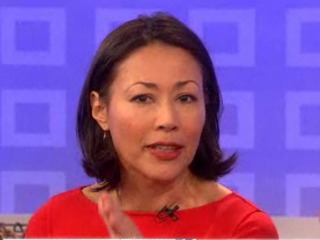 On Thursday morning's Today, anchor Ann Curry addressed her departure from the show, bidding viewers good-bye after 15 years on the morning program. She had been co-host of the show alongside Matt Lauer for the past year.
A tearful Curry admitted that this is not how she "expected to leave this couch after 15 years," but that she is "grateful" to have been there. Her viewers, she said, are the reason she's traveled to remote and dangerous places to report on what is happening around the world.
"I love you and I wanted to give you the world," she said. "And I still do."
"Thank you, from the bottom of my heart," she told viewers, apologizing for her tears.
"You have the biggest heart in the business," Lauer told Curry as she wiped her eyes, looking down.
Al Roker recalled Curry's excellent, heartfelt reporting on the tsunami, later joking that she is the "Queen of Tweets."
Natalie Morales, her voice quaking, held Curry's hand as she commended all she has done for military families.
"Can I just say… It's not good-bye," added Lauer. "Not by a long shot."
Curry recently told USA Today that it "hurt deeply" to see leaks about her departure from the show, adding that "I know I am not to blame for the ratings worries."
RELATED: A 'Deeply Sad' Ann Curry Tells USA Today She Is Leaving The Today Show
Earlier this month, the New York Times reported that a plan to replace Curry had been "taking place in secret and has not been finalized," adding that Curry might shift to a foreign correspondent position, "reflecting her strengths in reporting from disasters both man-made, like the ethnic killings in Darfur, and natural, like the 2010 earthquake in Haiti."
In March, speculation rose that Lauer's renewed contract with the show included booting Curry as co-host. Reports indicate that Savannah Guthrie has been offered the position in Curry's stead.
Update:
Below is an internal email obtained by Mediaite. In it, NBC News president Steve Capus details Curry's new role at the network and across its media platforms, describing her as "the absolute best person for his job:"
Ann Curry announced this morning on "TODAY" she is moving into a new role as NBC News National & International Correspondent and "TODAY" Anchor at Large. She will be reporting for all platforms of the news division including "TODAY," "Nightly News," "Rock Center with Brian Williams," "Dateline," MSNBC, MSNBC.com and all of our digital properties.

As everyone here in the news division knows, Ann is a gifted journalist with a strong sense of service to her colleagues, peers and especially our viewers. In her new role, Ann will report on the global and domestic humanitarian stories that our viewers need to know and care about.

Having known Ann since our early days together at "NBC News at Sunrise," I can assure you, she will pursue these efforts with dedication, empathy and tenacity. NBC News is in much better shape with Ann Curry out there reporting these stories.

This is not a farewell from "TODAY." Ann's reporting will be showcased on "TODAY" as well as all other NBC News broadcasts. Outside of the confines of the studio, she'll have more freedom for those pursuits.

Please join me in congratulating Ann on this terrific new role. Simply put, she is the absolute best person for this job.
Here is video of Curry's good-bye, via NBC:
Have a tip we should know? tips@mediaite.com