Anthony Bourdain Took Chantix, Side Effects Have Been Suicidal Thoughts. Will Cable News Give Major Advertiser a Pass?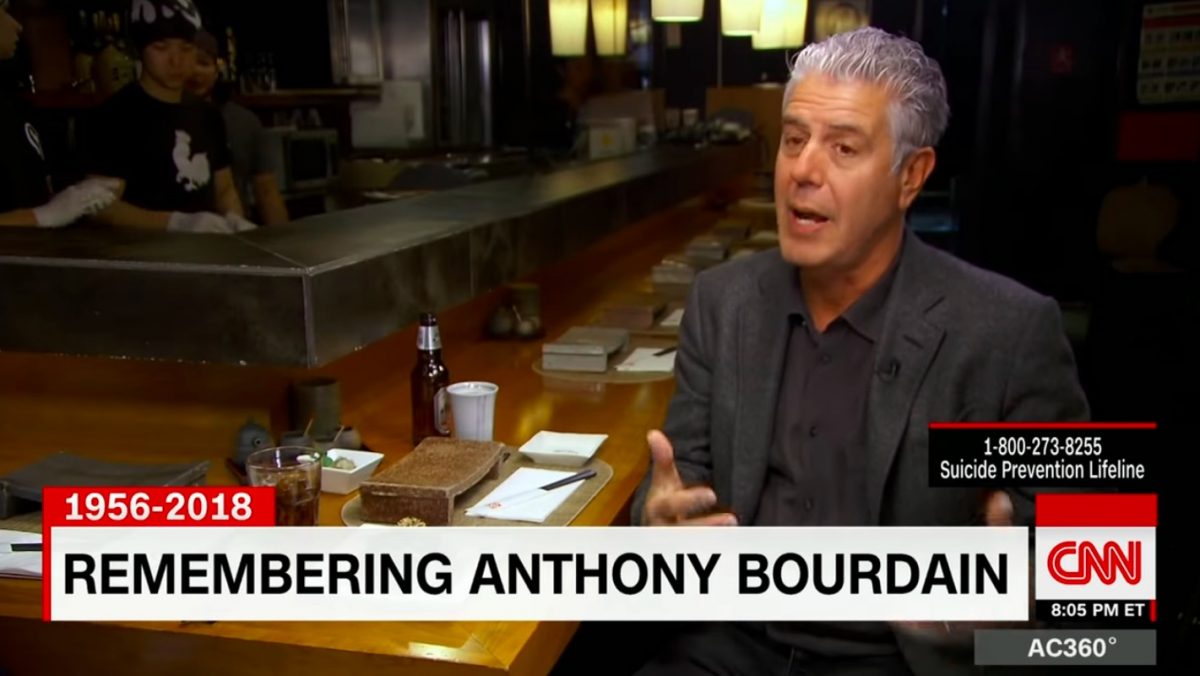 Anthony Bourdain taking his own life last week sent shockwaves throughout the media world for obvious reasons. The self-described "enthusiast" appeared to be a world-class bon vivant who celebrated the beauty of the world in the most unique and respectful way imaginable: embracing the most interesting culinary and cultural delights in a manner that inspired viewers of his CNN docu-series Parts Unknown. Like so many suicides, it made next to no sense for those who worked with him closely, who were left only to ask why.
Well, it turns out there is one possible influence that has thus far been unexamined by news outlets: Bourdain was a user of the smoking cessation drug Chantix. Why is this relevant? Well anyone who watches a fair share of cable news and has seen the fairly ubiquitous Chantix marketing campaign, a drug for which a known side effect has been suicidal thoughts. But the news coverage of Bourdain's passing thus far has ignored the possible influence of this drug, despite its very public warnings.
The evidence of Bourdain taking Chantix is still on Twitter. In 2012 he tweeted a couple of times, once lauding the benefits (though admitting the side effects of making "some people stabby"):
@chefsymon tried Chantix? It makes some people stabby but worked for me.

— Anthony Bourdain (@Bourdain) February 16, 2012
And another claiming how Chantix and anti-malaria drug Malarone does not create a very good cocktail:
Chantix and Malarone do not mix well.

— Anthony Bourdain (@Bourdain) November 24, 2012
Some background: Chantix became available to the public in 2006 and quickly earned the reputation as the most sure-fire way to quit smoking. But the drug also came with a number of possible side effects that included horrible nightmares, amnesia, and suicidal thoughts.  A 2011 report found that  Chantix was eight times more likely to be linked with a reported case of suicidal behavior or depression than other nicotine replacement products.
The FDA received so many reports linking the drug to serious mental health issues that it ordered Pfizer, the maker of Chantix, to feature a black-box warning label — which is the most severe level of labeling requirement. In September of 2016, however, the FDA narrowly voted in favor of removing the warning, arguing that the benefits of Chantix outweighed the demerits of its side-effects and that "there was no clear evidence of causality between the drug and the side-effects." Broadcast commercials still include the line "some people had changes in behavior or thinking, aggression, hostility, agitation, depressed mood, or suicidal thoughts."
It is impossible to truly know if, in fact, Chantix played any part in Bourdain's passing. The circumstances, however, suggest it's at least worth examining. But will news outlets take a critical eye towards a product that spends millions of dollars promoting its drugs on its own airwaves? A search of transcript database TVEyes shows Chantix advertises on all three cable news outlets. CNN ironically aired a Chantix ad during last night's episode of Parts Unknown.
In the wake of two very notable suicides (Bourdain and fashion icon Kate Spade) cable news outlets have taken a remarkably thoughtful approach to covering celebrity suicides, in part out of respect and for the fear of a possible rash of copycat suicides. But nowhere in this coverage has anyone mentioned the possible pharmaceutical effect on increased suicides. We are still early in the reporting around Bourdain's passing, but historically, critics have noted that cable and network news outlets appear to have given pharmaceutical companies a pass on critical coverage.
A recent study by the CDC reports that "suicide is a major public health issue, accounting for nearly 45,000 deaths in 2016 alone. That is why the Centers for Disease Control and Prevention in Atlanta decided to take a comprehensive look at suicides from 1999 to 2016."
Also according to the CDC, more people died from drug overdoses in 2014 than in any year on record. The majority of drug overdose deaths involve an opioid. Since 1999, the rate of overdose deaths involving opioids (including prescription opioid pain relievers and heroin) almost quadrupled. From 2000 to 2014 nearly half a million people died from drug overdoses. Those deaths include suicides, the article noted.
Is a quantifiable increase in suicides caused by pharmaceuticals that have a side effect of suicidal thoughts? It's impossible to know for sure, but any civilian who watches cable news can tell you that over the past 20 or so years, there has been a huge increase in Big Pharma marketing advertising, and there is at least some form of correlation between the two.
Yes, America is trying to live better through chemistry, and a known side effect of our broken health care system is an absurd amount of marketing dollars that end up as a rash of advertising on network and cable news. Big Pharma's marketing budget is literally one the biggest hands that feed televised news, but will news outlets bite that hand and speak truth to power?
Seems unlikely.
Colby Hall is the founding editor of Mediaite. Follow him on Twitter.
This is an opinion piece. The views expressed in this article are those of just the author.
Colby Hall - Founding Editor