Autopsy Doctor Speculates Marijuana Could Have Made Michael Brown Act 'Crazy'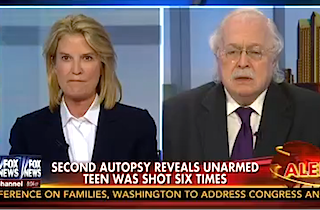 Dr. Michael Baden, who performed the initial autopsy on Michael Brown joined Fox News' Greta Van Susteren Monday night to share the conclusions he was able to draw about how the unarmed teenager was killed by a police officer in Ferguson, Missouri last weekend. But before he got to his findings about the bullet wounds, Baden weighed in on a toxicology report that allegedly shows marijuana in Brown's system at the time of the shooting.
"Does the fact that they found marijuana, does that exclude the fact that there might be other drugs in his system or even that the marijuana was laced with anything?" Van Susteren asked the doctor. "Is that the final analysis or could there be more information to come in terms of the toxicology?"
After admitting that he had not seen the toxicology report in question yet, Baden went on to speculate about what the presence of marijuana in Brown's system could mean.
"Very important with marijuana is the levels of the different drugs that are present in marijuana to have an opinion as to whether or not he might have been affected by the marijuana," he said, "so that he may have been acting in a crazy way and may have done things to the police officer that normally he would not have done."
What neither Van Susteren nor Baden mentioned is that THC, the active ingredient in marijuana, can stay in a person's body up to 40 days after its use. So even if the medical examiner did detect the drug in Brown's system, it does not mean he was necessarily intoxicated at the time. Not to mention the fact that marijuana is not known to be a violence-inducing drug.
Watch video below, via Fox News:
[Photo via screengrab]
— —
>> Follow Matt Wilstein (@TheMattWilstein) on Twitter
Have a tip we should know? tips@mediaite.com