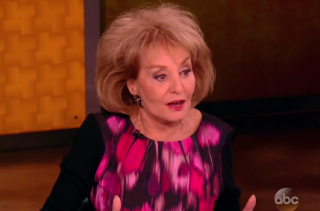 American reporters, commentators, and news consumers have largely applauded former RT anchor Liz Wahl for her on-air resignation in protest of the Kremlin-controlled network's "whitewashing" of Putin's recent actions. But on Friday morning's The View, Barbara Walters insisted Wahl is no hero.
"She is working for a Russian network," Walters explained to her baffled co-panelists. "Therefore, she is protesting the Russians. It is not like if I were angry at ABC and I came out and said terrible things about ABC, I don't think I'd be here tomorrow. Maybe I would. She is protesting. She's working for them."
Wahl had worked for RT for two years, and so, to Walters and guest panelist Rachel Campos-Duffy, she's not exactly a hero after having already spent time working for the Russians.
Sherri Shepherd tried to make sense of the argument, pushing back: "Even though she was working for, it was Russian, but she's saying it's still every day I've got to do this, I'm not feeling good inside. It's violating what I'm feeling, so it's okay."
But Walters insisted: "I think what she did is fine, it's a personal choice, but don't make her a hero for protesting. She is working for the government."
So because Wahl worked for a government, it's less bold of her to publicly call out her employer for its pro-Kremlin "spin" and quit? Hmm..
Watch the segment below, via ABC:
[h/t NewsBusters]
— —
>> Follow Andrew Kirell (@AndrewKirell) on Twitter
Have a tip we should know? tips@mediaite.com