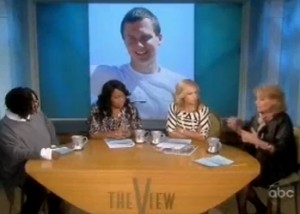 Not surprisingly the topic of conversation on today episode of The View was the tragic events of this weekend in Arizona that saw six innocent civilians killed and Rep. Gabrielle Giffords put into critical condition. Almost immediately after the news broke of this event, many on the left pointed to an image put fort by Sarah Palin's PAC that included controversial cross-hair imagery on a number of congressional districts in play (including Giffords'.) Today Barbara Walters defended Palin, saying "I feel bad for Sarah Palin."
Writing for the Daily Caller, Jeff Poor reports:
"I'm feeling bad for Sarah Palin because I don't think that's what she should have said, and certainly crosshairs are very scary," Walters said. "This is a deranged young man. This is a Timothy McVeigh. Whether this happened because there is violence – too much commentary, too much violence as you say we've talked about. Sometimes we do it here we get so angry."

Walters added she hoped this might offer time for introspection in terms of political rhetoric, but told viewers that this wasn't the time to place blame.

"Whether that speared him on or whether he is just a very sick person, we don't know," she continued. "We don't know what his motives are and we can hope that all the vitriol calms down. But to blame Sarah Palin as some are doing I think is very unfair to her. She issued a statement offering her condolences and hasn't said more. But I don't think this is the time now to start finding – you should excuse me – other targets to blame."
What followed was a relatively sober and reflective discussion about the heated political climate in which we know find ourselves.
Have a tip we should know? tips@mediaite.com
Colby Hall - Founding Editor