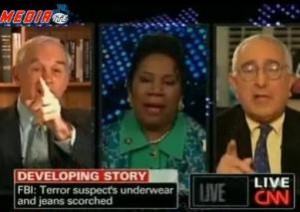 A discussion of Umar Farouk Abdulmutallab, and terrorism in general, turned into a heated debate between two Republicans on Larry King Live last night.
Ben Stein and Rep. Ron Paul displayed their very different takes on foreign policy – until Stein called Paul's argument "anti-Semitic" and the segment took a turn.
"If you dismiss motivation for why they hate us we can never resolve this," said Paul during the interview with King. "There's hate on both sides. But you have to ask the question, 'why do they hate?'"
Stein disagreed completely. "I've never heard anything quite like that in my whole life," he said. "What he's basically saying is we're doing something wrong by defending ourselves."
As Paul pressed Stein on his beliefs, Stein said we need to take action "because they're terrorists and murderers."
That led to this exchange:
Paul: They're terrorists and murderers because we're occupying them.
Stein: No we're not occupying them. That's the same anti-Semitic argument we've heard over and over again.
Paul: Oh now that is a viscous attack.
Paul's tone changed completely, asking Stein to apologize for the "terrible" comment. Stein wasn't backing down – in fact he repeated "anti-Semitic" again during the segment. Rep. Paul may be extra sensitive to the charges of antisemitism after reports of a newsletter were dug up during his 2008 Presidential campaign. Also, it's interesting to see Stein take Paul on over this issue, since 18 months ago he was calling then-Presidential candidate Paul a "very smart guy" in an interview with Glenn Beck on his old HLN show.
King seemed to enjoy the debate. "Two republicans going at it!" he said. "This is fascinating." The third guest, Rep. Sheila Jackson Lee, tried in vain to "referee." But Stein and Paul are two strong cable news guests, and seeing them go at it a bit, particularly the part before the antisemitism line started, was an interesting exchange – and good to see on a CNN prime time show.
Here's the "anti-Semitic" comment portion of the interview:


—–
» Follow Steve Krakauer on Twitter
Have a tip we should know? tips@mediaite.com