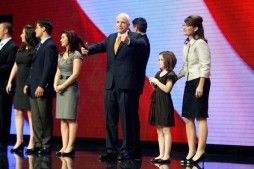 Much to the delight of media folks everywhere, and the understandable dismay of the Palin family, an Alaskan judge has forced the custody battle between Bristol Palin and Levi Johnston to go public. Up until now the court case, filed by Bristol Palin back in November in order to obtain sole custody of Tripp Johnston-Palin has been closed to the public. Apparently this measure did not sit well with Levi Johnston. From the Alaska Dispatch:
In an opposition to Palin's motion for a gag order, Johnston's attorney, Rex Butler, said: "Simply put, this matter is public in nature, the courts are not refuges for the scions of the elite to obtain private dispensation of their legal matters because the public at large has an interest in the proceedings."
"The courts are not refuges for the scions of the elite!" Sounds a bit like Sarah Palin is getting Palinized. And then there's this from Johnston, himself:
"I do not feel protected against Sarah Palin in a closed proceeding," Johnston said in an affidavit accompanying Butler's filings. "I hope that if it is open she will stay out of it. … I think a public case might go a long way in reducing Sarah Palin's instinct to attack and allow the real parties in this litigation, Bristol and I, to work things out a lot more peacefully than we could if there is any more meddling from Sarah Palin."
It's unclear whether the inclusion of the press where the Palin's are concerned will be conducive to anything getting done "more peacefully" but considering the uproar over Levi's Playgirl photo shoot, not to mention Palin's Going Rogue, perhaps they have a different definition of the word.
Have a tip we should know? tips@mediaite.com