Bernie Goldberg To O'Reilly: Obama Could 'Literally' Cure Cancer And GOP Would Still Hate Him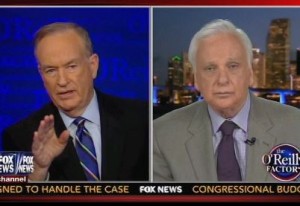 Bernie Goldberg sat down with Bill O'Reilly tonight for a round of media criticism that hit the liberal media for its months-long reluctance in covering Benghazi, with Goldberg arguing that it was a report by ABC News that finally "gave permission" to other news organizations to pursue the story. And while Goldberg differed with O'Reilly on the latter's insistence that the AP monitoring story is not a scandal, he agreed that conservatives are too obsessed with tearing down Obama, saying that the president could cure cancer and the GOP would find a way to avoid giving him credit.
RELATED: O'Reilly And Bernie Goldberg Tear Into Benghazi Media Bias: MSNBC Is White House's 'Public Relations Firm'
Goldberg claimed that liberal reporters have been playing down Benghazi because the White House wants that, but after ABC released a report on the changed talking points, "that gave permission" for the rest of the media to scrutinize Obama. He said that the media never really takes the word of conservative reporters seriously, that they need one of their own to jump on it first.
But on the Associated Press story, Goldberg challenged O'Reilly' downplaying of the scandal, asking him how he would feel if Fox News was similarly targeted. O'Reilly defended the FBI for conducting a legal investigation into national security leaks, and while he did criticize the attorney general for denying involvement, he argued that it "hurts the cause of legitimate investigations" of the Obama administration by jumping to conclusions without the facts to back them up.
Goldberg agreed on this point, saying there are liberals who won't acknowledge Benghazi as a scandal at all, but also conservatives who wouldn't give credit to Obama even if he "literally" cured cancer, pointing to this new era of "raw partisanship" in Washington.
Watch the video below, courtesy of Fox News:
—–
Follow Josh Feldman on Twitter: @feldmaniac
Have a tip we should know? tips@mediaite.com
Josh Feldman - Senior Editor