Between Obama and Bill Clinton, Guess Who Else Was On TV Last Night? (Hint: It Rhymes With "Schmillary")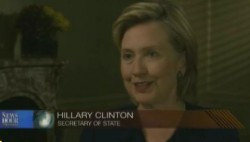 Yes, PBS watchers, that badly-lit official holding forth about wartime elections in Afghanistan, the McChrystal memo, and this week's United Nations General Assembly last night was none other than U.S. Secretary of State Hillary Clinton, talking substantively and at length about important matters of foreign policy and national security! Whoo-hoo! Can I get a what-what?
Oh, and also, Barack Obama was on Letterman and Bill Clinton was on the Daily Show.
No disrespect to either of them — the Clinton Global Initiative is great and so is health care — but honestly, could the Secretary of State fly any more under the radar? Two months later, Hillary Clinton is still "the invisible woman at the State Department," as Tina Brown coined it in July. It's the exact opposite from the El Completo Ginsburg President — which is fine, he's the President — but even Condi got more facetime than this.
Since Hillary's invisibility was pointed out two months ago — by Brown, by the New York Times, by Peggy Noonan, by us — her big news breakthrough happened thanks to her groundbreaking trip to the Congo. Not because of her speaking out against violence against women and the use of rape as a weapon of war, but because of her testy reaction to a question. You know what I'm talking about, if you don't just Google "Hillary Clinton Congo."
This is a mistake and a misuse of a fantastic resource — Clinton was terrific on the NewsHour, with precise responses putting issues in Afghanistan in context (and spinning the McChrystal Report into its place, it should be noted). Watch it below or read it in full here (and props to Margaret Warner for terrific questions, too). Furthermore she reiterated a soundbite that Foreign Policy called "historic": saying that she has labeled "corruption…a national security threat." (This is from the McChrystal Report which assesses government corruption and abuse of power as on par with the insurgency in undermining American efforts in Afghanistan.) This makes what she had to say about Afghani President Hamid Karzai significant, since she backpedals from handing him the blame:
I don't think he was really tested in the prior administration…I think there are some positive changes going on. Is it enough? Is it moving at a pace that I prefer? No, but I want to look at this very objectively. I can see the problems and I can see, you know, the positives and then we want to move more to the positive side of the ledger.
(This, IMHO, is the only part of the interview that rang a little false to me — but what else are they going to do before the election plays out? Which she basically says: "We're not going to make any decisions of any significance until we know the outcome of this election. I mean because we have to know who our counterparts are, and we have to make it clear that in return for X, we expect Y.")
The point is, Clinton said a lot of important and revealing stuff in this interview. It was long and thoughtful and may not have been flashy and punchline-ridden, but it should have been promoted — and been one of many stops on her media blitz. But hey, it's not too late — hi there, White House Twitter Feed, old friend! I see you tweeted about Obama on Letterman, and about the President at the Clinton Global Initiative today, and about the work of Vice President Joe Biden, FCC Chairman Julius Genachowski, White House economist Austan Goolsbee, and Chief Information Officer Vivek Kundra. Surely there's room on your Twitter feed for the Secretary of State! We'd love it if you tweeted this link out of course (here's the bit.luy! http://bit.ly/HnAgX) but if you're purists, here's the direct link to the PBS transcript. We promise we'll retweet you!
Have a tip we should know? tips@mediaite.com