Bill Hemmer Defends His 'Editorializing' After Monday's Obama Address: I Feel France's Grief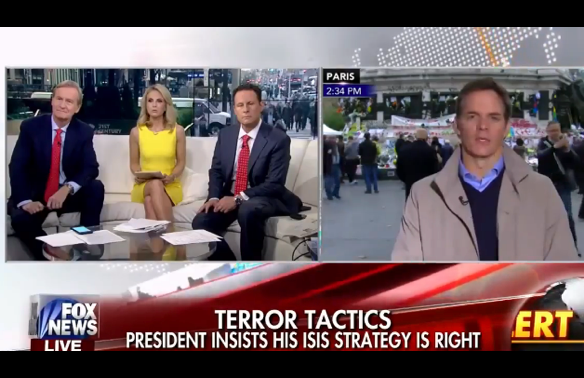 On Tuesday morning's Fox & Friends, Fox anchor Bill Hemmer addressed his commentary that made headlines yesterday following President Barack Obama's G20 address in Turkey. Hemmer — who typically anchors the late-morning America's Newsroom — provided some personal commentary on the President's address that seemed unusual for the usually stoic Hemmer. For background, a seemingly frustrated Hemmer said yesterday:
"If you're at home wondering with your own set of anger and your own set of fears about what can happen next, you are not alone, because that is precisely what you feel here in Paris, France. And if you were awaiting clarification on your feelings through that Q-and-A, you weren't gonna get it."
This morning Fox & Friends co-host Steve Doocy said, "Bill after you made what seemed to me — well, you were stating the obvious — some columnists and whatnot and people on the internets [sic] said 'What's he doing editorializing?' What were you doing?"
Hemmer somberly responded, "I guess my sense Steve was that 60-70% of people in American polling believe the strategy against ISIS is not a winning strategy. And after being here in Paris and just feeling the sense of grief that these people have… they wanted to hear how we can be successful."
Hemmer continued:
"My sense is [President Obama] knows this is a tough sell. My sense is he was in no hurry yesterday. My sense is that he wanted to explain it as well as he could. I had the feeling that this was George Bush in 2006 when the bulk of the american people were concerned about the way the war was going on Iraq and wanted to get out. And what did President Bush do? He doubled-down, went with a surge, and ultimately that surge proved successful. This is the card President Obama is playing. The big distinction is: these were not marines or soldiers targeted here in Paris. These were innocent 20-year-old college students."
Watch the above clip from Fox News.
[image via screengrab]
—
>> Follow J.D. Durkin on Twitter (@MediaiteJD)
Have a tip we should know? tips@mediaite.com