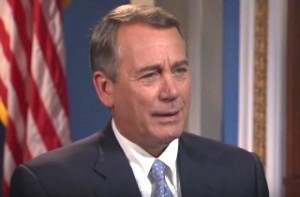 Today is former Speaker of the House John Boehner's (R-Ohio) 66th birthday. To commemorate the occasion, current Speaker of the House Paul Ryan (R-Wis.) wished his predecessor a happy birthday on Twitter, the social medium both politicians — or, at least both politicians' interns — use on a semi-regular basis.
But it wasn't just any birthday tweet. No, it was a musical birthday tweet. Because Speaker Ryan made sure to include musical notes (♫) on either end of his two-line lyric.
.@SpeakerBoehner: ♫This is your birthday tweet … I hope your day is sweet♫ pic.twitter.com/AFpnXuXDUB

— Paul Ryan (@SpeakerRyan) November 17, 2015
The notes suggest a tune of some sort, and our best guess is the jokey "This Is Your Birthday Song, It Isn't Very Long" meant for children ages three to eight.
It's a cute show of respect for the older Boehner, but Ryan's apparent goofiness on social media got me thinking. Has the 54th Speaker of the House ever used Twitter for similar shenanigans in the past? The answer is yes, especially when it comes to birthdays.
@SpeakerRyan is a fairly recent account, but Ryan's team has used @PRyan since August 2012, when he entered the presidential race as Mitt Romney's running mate on the Republican ticket. He's wished Romney a happy birthday.
Join Janna and me in wishing a very happy birthday to our good friend @MittRomney. — Paul Ryan (@PRyan) March 12, 2013
In fact, he's highlighted Romney's day of birth every year for the past three years. He even used the #tbt (Throwback Thursday) hashtag for the last two, possibly as a friendly reminded of their failed political campaign.
.@MittRomney is a great man and a great friend. Happy Birthday, Mitt! pic.twitter.com/uj3VDssSwJ

— Paul Ryan (@PRyan) March 13, 2014
A happy birthday #tbt to my great friend @MittRomney. Here's to another year full of laughs. pic.twitter.com/IPkTVrJIDn — Paul Ryan (@PRyan) March 12, 2015
Other recipients of Ryan's tweeted birthday wishes include former President George W. Bush.
Happy Birthday W! pic.twitter.com/NNfDauFp6s

— Paul Ryan (@PRyan) July 6, 2015
His father, former President George H.W. Bush.
Forgot my colorful socks, but still want to wish President Bush '41 a happy 89th birthday! #41s89th pic.twitter.com/voRAkh0vKb — Paul Ryan (@PRyan) June 12, 2013
Former British Prime Minister Winston Churchill (albeit late).
Happy belated! MT A very happy 140th birthday to Winston Churchill! To learn more about The Churchill Centre go to http://t.co/07faFiAZLH

— Paul Ryan (@PRyan) December 1, 2014
For good measure, Green Bay Packers legend Vince Lombardi.
Happy 100th birthday to the legendary Vince Lombardi #lombardi100 pic.twitter.com/7Jo0T2ijtr — Paul Ryan (@PRyan) June 11, 2013
And, of course, his old pal Boehner.
Happy 65th birthday to my friend @SpeakerBoehner. Thanks for all you've done for Ohio and the country.

— Paul Ryan (@PRyan) November 17, 2014
Ryan isn't consistent with his birthday wishes, unless he's wishing a happy one to Romney. He always wishes the former Republican presidential candidate a happy birthday. It's almost like he can't not wish Romney a happy one. (I suspect some kind of Illuminati curse.)
[Image via screengrab]
— —
>> Follow Andrew Husband (@AndrewHusband) on Twitter
Have a tip we should know? tips@mediaite.com