Bill Kristol to MSNBC: GOP Absorbed Popularity Hit, Might as Well 'Play Out Shutdown'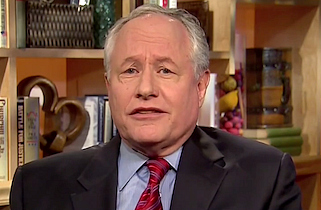 Weekly Standard editor Bill Kristol argued on MSNBC's Morning Joe Tuesday morning that the GOP had already absorbed the negative impact of the government shutdown on their popularity, and had more incentive to "play out" the shutdown than to pass a clean continuing resolution.
"It's not '95, '96 all over again," Kristol said, referring to the previous government shutdown that contributed to the Republicans losing their House majority.
"If you're a Republican congressman, you look at these numbers and think well, whatever hit we've taken, we've probably taken now. There's no point panicking. Let's play out the shutdown. Handle it a little longer. Pass the small bills, try to put pressure on Harry Reid (D-NV) to pass so those through the Senate, try put pressure on the president to at least negotiate. And think hard about how to handle the debt ceiling, which is the trickier thing to handle, and has real consequence, much bigger and more real consequences for the country than the shutdown."
"It's not a great victory for Republicans either," Kristol added. "Ted Cruz (R-TX) can be disappointed, but I think President Obama and his strategists can also be disappointed."
"The Virginia numbers are very interesting," Kristol continued, referring to Terry McAuliffe's recent gains in the Virginia governor's race; many believe the government shutdown has added to Ken Cuccinelli's struggles, as Virginia has a large amount of government workers.
"Cuccinelli has run a very bad campaign, I'm afraid, and is down by nine points to the Democrat, Terry McAuliffe," Kristol said. "But the libertarian is getting 12% of the vote. Those aren't all voters who would vote Republican in normal circumstances, but I would think two-thirds, three-quarters are. So the ideological breakdown in this stage—for all the talk of we're [Virginia] full of government workdowns, for all the talk about the shutdown—is the people are not more pro-government. Those 12% voting libertarian don't think government should be bigger."
Watch the full segment below, via MSNBC:
[Image via screengrab]
——
>> Follow Evan McMurry (@evanmcmurry) on Twitter
Have a tip we should know? tips@mediaite.com