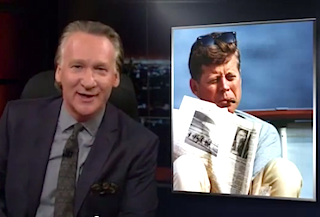 Bill Maher waiting until the end of HBO's Real Time Friday night to address the story that had dominated the news all day on November 22nd, 2013: the 50th anniversary of the assassination of President John F. Kennedy. But instead of simply praising JFK's legacy, Maher compared and contrasted it with that of the right's equivalent hero: Ronald Reagan.
The host began by giving Republicans some credit for "not saying out loud what they're really thinking" about Kennedy: "That he wasn't all that great." He explained that "don't get a lump" in their throat for John F. Kennedy, they get one for Ronald Reagan. "He's the Republican's Kennedy."
As an example, Maher pointed to Sarah Palin, who has spent plenty of time praising Reagan, even though when he was first elected she was "barely 16, probably pregnant, but still in third grade."
From there, Maher began summing up the differences between Democrats and Republicans. "We have Kennedy. You have Reagan. We have marijuana. You have Metamucil. We want gays in the military. You want them in the airport restroom." The rest of Maher's final New Rule of the night was spent illustrating the contrast between Kennedy and Reagan to show the difference between those who harken back to the 1960s and those who yearn for the 1980s.
"Can we, on this day, at least agree that Kennedy was cooler?" Maher asked. Kennedy was Don Draper, while Reagan was Rooster Cogburn: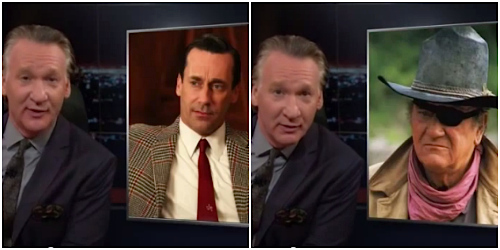 When Kennedy was president, "everyone looked like Rob and Laura Petrie." Wheras, when Reagan was president…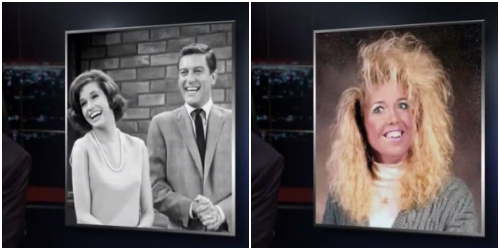 "Kennedy's time was the time of 'Ask not what your country can do for you,'" Maher said. "Reagan's was the time of 'Greed is good.'" While he admitted Kennedy was "far from perfect," he called him a "true wit and a sex machine and he knew how to wear a pair of shades." In contrast, "Reagan was an amiable square in a pair of shades who had sex with a woman he called 'Mommy.'"
"Republicans can call Reagan 'their Kennedy' all they want," Maher concluded. "Our Kennedy is Kennedy."
Watch video below, via HBO:
[photo via screengrab]
— —
>> Follow Matt Wilstein (@TheMattWilstein) on Twitter
Have a tip we should know? [email protected]